How much does it cost to make a booking type app?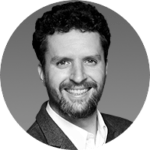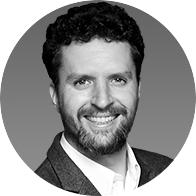 Booking type apps are getting more and more popular. Even though most people crave human contact, we want to make our consumer choices freely, in the most convenient place and time. That's why the possibility of booking services with possible company assistance is very appealing.
Table of contents
Having a smartphone in our pocket, we don't want to research taxi companies' phone numbers, compare the offers and wonder who will offer better service. We have Uber or Bolt at our fingertips, so we can order transportation wherever we want to, we know where the driver is, when he will approach us and how much we will pay – and we can use many discounts to save money (for first rides, recommendations and during low demand when the prices are cut down).
Booking apps are now a completely new dimension of mobile products with a bunch of benefits we didn't even think we could get. In this article we discuss app development costs and industries that can take advantage of this trend.
What kind of booking apps are there?
Nowadays we can book almost any kind of service by using dedicated mobile applications. There is a couple of solutions that help us to make reservations with a couple of clicks – using smartphones or web apps. Apps that we can choose from include:
hotel and apartment booking (Airbnb, Booking.com),
hairdresser and beautician appointments (Booksy – we want to congratulate our fellow Polish startup that was funded 30 mln USD last year. That's a great success, congrats!),
taxi and transportation ordering (Uber, Lyft, Grab, Didi),
restaurant table reservations (Zomato, OpenTable),
tennis and squash court or sports field booking,
cinema, theatre and concert tickets buying (TicketNew, BookMyShow, Local Vendors),
medical appointments, including home visits (HomeDoctor),
airplane and train tickets buying,
car mechanic appointments (not that popular, even unavailable service – would be great if it existed!),
public transportation tickets buying,
food ordering (UberEats, Wolt, Pyszne.pl)
car renting,
and many more.
As you can see, many diverse solutions allow us to book a service we are interested in – and there is much more than the ones mentioned above. Some are highly popular, while others don't survive – sometimes by using unsuitable technology, other times because of society that got used to traditional booking methods and doesn't want to change their habits.
Why booking apps are so popular?
The growing popularity of solutions like that and the number of services that are available for booking via mobile apps is caused by several factors – including the consumers and the contractors:
Comfort by shortening the time of booking process – users don't need to wait on the phone to talk with a consultant or a salesperson because they can reserve the service by themselves, according to their preferences.
Lowering the cost of customer support – a big chunk of the booking process is passed to the client. This way support branch can be reduced to a minimum. Moreover, if the app is well developed, client satisfaction is growing because they can make decisions without consultations and fix problems without a long wait on the helpline.
Simplified booking payment process – thanks to mobile payments, the whole process of reservation – from picking the service, the date and other parameters to booking and paying with confirmation – can be done completely on the client's phone, cashless and excluding bank transfers.
Which technology we can use to develop a booking app?
Depending on the type of service and frequency of reservations, app developers can create a booking app using different mobile technologies. The type of picked technology and the number of components we want to implement will have a direct influence on the cost of the solution we are building. Here's a table with guidelines for each case:

| | | | | |
| --- | --- | --- | --- | --- |
| How often the app is used? | Web app | Mobile app | Type of service | Diffculty |
| Few times a year | Must have | Worth having – hybrid app | Medical appointment, airplane tickets, cinema, concerts, car rentals | Easy |
| Few times a month | Must have | Worth having – hybrid app, cross-platform app or native solutions | Courts and fields booking, hairdresser and beautician appointments, restaurant tables | Medium difficulty |
| Few times a week | Depending on the business model – can have but not necessary | Must have – cross-platform app or native solutions | Train or bus tickets | Medium difficulty |
| Few times a day | Worth having | Must have – native solutions | Taxi, food ordering, public transportation | Most demanding |
Features of an online booking app
Besides the service use frequency, we should also consider other functionalities that are often a part of a booking app:
standard functions like account registration, logging in, profile summary and settings
browsing, filtering and sorting offers – all types of lists, category division, searching based on parameters like price, availability, type of services, localization and more
service presentation with a list or on the map, where the user can make their decision easily depending on the location of picked service – useful for hotels, restaurants or doctors
offer details screen – presenting the offer appealingly, showcasing all the details of chosen service
reviews and ratings with comments posted by other users
booking and paying for the service – choosing dates and parameters, payment process and reservation confirmation
transaction list with purchase archive – possibility of keeping the tickets and documents that confirm our purchases, access to bills and invoices
push notifications – booking confirmations, status changes, reminders the day before or on the same day, info that encourages the user to make another reservation (growing sales), other marketing announcements – push notifications, if implemented correctly, are a valuable marketing tool.
Cost estimation – how much does it cost to build an online booking app?
All services mentioned above are usually available for booking via phone (by calling relevant numbers), so let's assume that the booking system already exists within the company. We just need to write a component for end-users that will allow them to reserve services themselves straight from the app.
So how much does it cost to develop this type of app? Below we present an estimation based on the example of cinema tickets booking. It's a native mobile app for an existing system (assuming that backend, API and web application are already done). We proposed an average team size based on general functional predictions for an app like this.
The process of mobile app development usually begins with UX/UI Workshops and then UX/UI design is created by seasoned specialists. The cost of these steps is also estimated in the table below.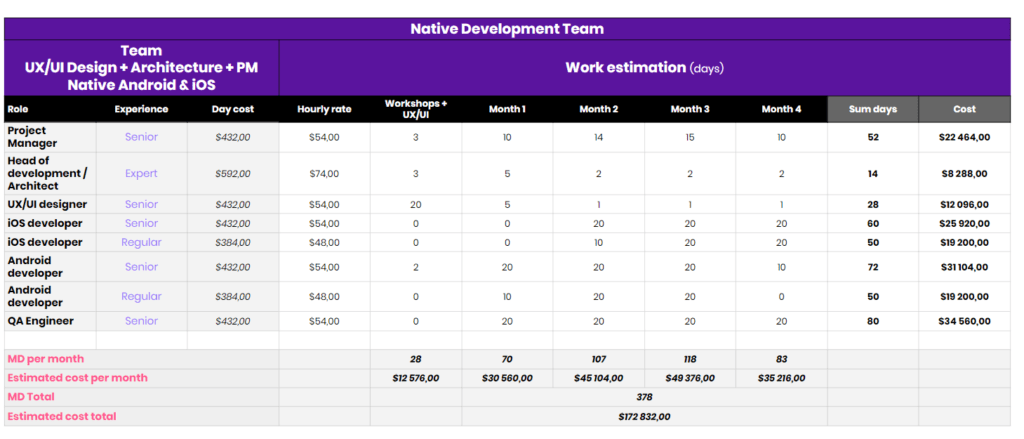 Who can benefit from developing a booking app?
The cost of building a booking app for products and services is justified if we are developing it for chain facilities, a concrete industry or a company that operates in a particular part of the world.
For example, creating a ticket booking system for a boutique cinema with one or two rooms is not profitable and in this case it would be better to use an off-the-shelf solution for cinemas and theatres or a generic system for ticket sales.
But cinema chains like AMC, Cinemark or Cineworld can afford custom solution development because they own thousands of screening rooms and for them ticket sales can be done via native mobile application.
Benefits of implementing a mobile or web service booking solution
Investing in building our own service booking solution has several benefits that justify this project:
Low customer care cost
The possibility of automating the whole process (from sales to realization) significantly lowers costs. In the case of airlines – for example Frontier who call themselves "ultra low-cost carrier", customer support is automated in 99%. Clients get a modern reservation system (web app and native mobile app) where they can browse for flights, manage bookings, change their parameters and buy additional services.
The airline also offers a mobile app that gives the user access to reservations, boarding passes, flight information and search engine. Only needs and problems that can't be fixed independently by the clients are transfer to customer care department which is simplified as much as possible (of course some passengers are not happy with this solution, but that's the company's policy and strategy which allows them to offer the lowest flight prices on the market).
Client's comfort
Because of the growing internet access and the number of apps available for the users, customers prefer comfort and independence. Booking solutions described above are available for everyone, 24/7 and with mobile apps – in any location. That's a huge advantage, especially for young people.
Low marketing and sales cost
If the client can book the service without leaving their comfortable couch, sales get much easier 🙂 Also, we can integrate online marketing tools into the system so they can measure the cost and efficiency of marketing operations with feedback, ROI data and more. That's an undeniable benefit – as the system's owners we get detailed information about our marketing effectiveness, including channel analysis so we know which ones work best – so we can invest better in our company's growth.
Fighting competition with innovation
if we are the market leader, we have to invite innovative solutions to our business so we won't be endangered by smaller players
if we want to conquer an existing market and consolidate it by using modern tools, we need to pick the right moment. For example, 5 years ago booking hairdresser appointments via web or mobile app wasn't popular at all, because clients and contractors were not ready for it. Now Booksy is smashing the market rapidly with more than 20 000 registered hair and beauty specialists.
competition pressures us to introduce new solutions – it is highly feasible that contractors who won't implement a service booking app in the next 3-5 years will disappear from the market. Users' preferences are undeniable and we have no influence on them – research claims that comfort and personalized experiences are the main factors when choosing a concrete brand and its products or services.
Google Play and App Store fees for booking services via apps
Our clients often ask us about the cost of processing fees in Google Play and App Store. Indeed, these payments are the most convenient – credit card data is already saved on Google or Apple account and the user only needs a password to access them for a transaction. Unfortunately the fee for these payments is extremely high – 30% for each operator. It can kill services like hotel booking, flight tickets selling, taxis and many others.
Luckily, for physical products and service fees, Google Play and App Store allow different payment methods. This way they can lower the fee by charging only for the chosen payment platform – usually 1-3% of sales commission (depending on the card and sales volume).
In this case, payment platforms that charge for credit card transactions are chosen most frequently. Recommended providers:
Stripe
Braintree
Square
or other local payment gateway providers
So how much does it cost to develop a booking type app?
A booking app can offer a bunch of opportunities for business growth. They are easy to use and gain more popularity by helping clients to reserve interesting types of services by themselves. The cost of development for this kind of solution depends on the functionalities we want to implement, as well as the final result we want to achieve. Based on the example of the cinema ticket sales system, we presented two native mobile solutions – for Android and iOS – which would cost around $170k and would take around 4 months to develop by a team consisting of 8 people.
A broad range of possibilities for this type of apps doesn't mean permanent development cost – each additional functionality means a need for new cost estimation. With startups and new brands we also need to keep in mind that building the whole infrastructure is a must. This part wasn't included in the example estimation presented in this article.
If you are planning to create your own service booking app and you wonder how much will it cost, contact us – we will estimate it. We are an experienced development company with expertise in mobile app development so our experts have all the competencies need to provide a high-quality product for your business.
Read more about mobile app development costs
How much will my mobile app cost? – budget vs expectations
How much does it cost to build an app like Uber?
What Is Software Outsourcing and How Much Does it Cost?
How Much Does it Cost to Make An App in 2022?
How much does custom CRM software cost?
How much does it cost to make an app like Clubhouse?
How much does it cost to make a healthcare application in 2022?
How much does it cost to make a booking type app?
What is a mobile app?
---
---