A mobile solution improving business customers' experience with the Makro brand.
Client
MAKRO – an international cash and carry brand.
Operating across Europe, South America and eastern Asia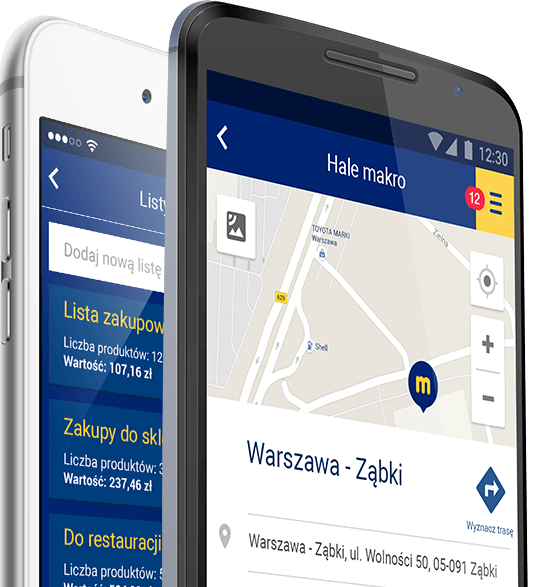 Problem
Enabling Makro customers better engagement with the brand. Establishing a long term, highly modifiable platform with the ability to provide a growing palette of services according to market trends and end-user needs. The main goal is a dynamic growth of user base.
Results
Makro customers have been using this high-quality app for four years, with more than a 100K per month user base. Initially released as a tool for managing Makro membership cards, it now provides a variety of additional services: location of stores, sales, promos and special offers, price scanner, rebates, discounts and more. In 2020 the app was awarded by the Mobile Trends Awards as the best B2B application. 
Technical Strategy
Creating a high-quality, high performance, scalable, user-centered platform for Makro customers.
Providing the design, implementation of changes and publishing of new versions of the application.
Provide server facilities for mobile applications, integrate with the data and data interfaces
provided by Makro so that the data in the application are always up to date
and consistent / integrated across the provided mobile services and implemented on both Android and iOS versions.
Technology
Native technologies were chosen for the project. Android: initially Java, with all new functionalities developed in Kotlin, iOS: full implementation in Swift. The backend is PHP-based. Native tech stack allows to maximally utilize the capabilities of devices, provides  flexibility of development, high quality, user-centered UX and most importantly – native technologies provide security of application development in the long run. 
Client's review
Head of Branding and Customer Activation, MAKRO Polska
Anna Heimberger
We've been working with itCraft for several years. In 2016, we implemented an advanced mobile application for our customers. The development and implementation of both the app and following additions of new functionalities went smoothly and without issues. What I value most in itCraft is their professionalism, smooth cooperation, and responsiveness with which they addressed our requests for changes. An excellent understanding of customer needs is one of itCraft's strongest assets.