How much does it cost to build an app like Uber?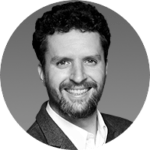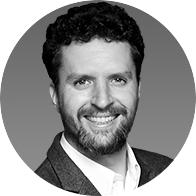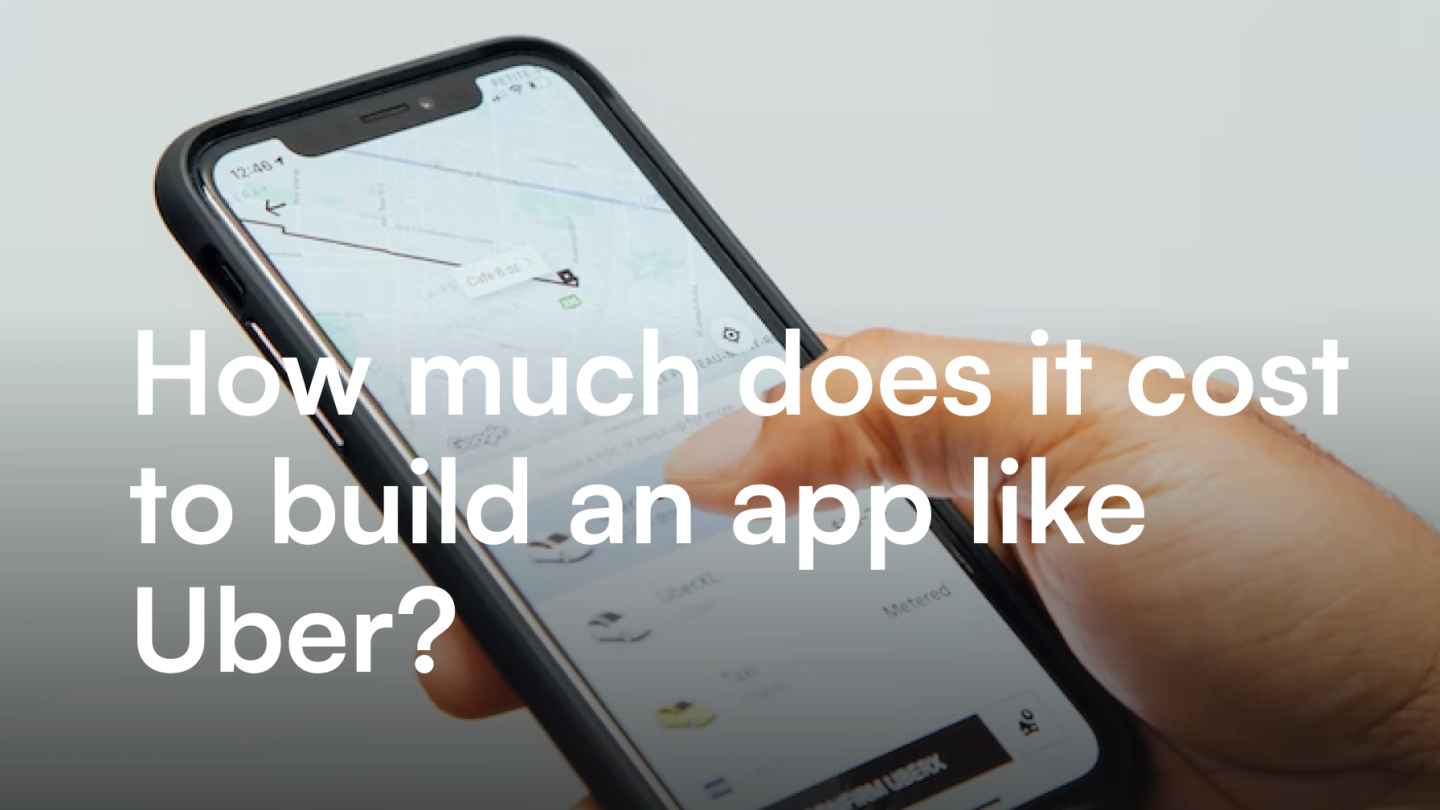 Whether you like it or not, Uber is currently the World's largest startup with 95 million people using their ride-on-demand services monthly in over 600 cities, spread across 65 countries. Over 14 million Uber trips take place each day of the year. Worldwide, there have been over 10 billion trips completed through the Uber app. So despite the controversies surrounding its management and operations, Uber, valued at 62.5 billion dollars in 2017, targeting a valuation of $80 billion to $90 billion now, in 2019, is still the most notable tech company of the hour.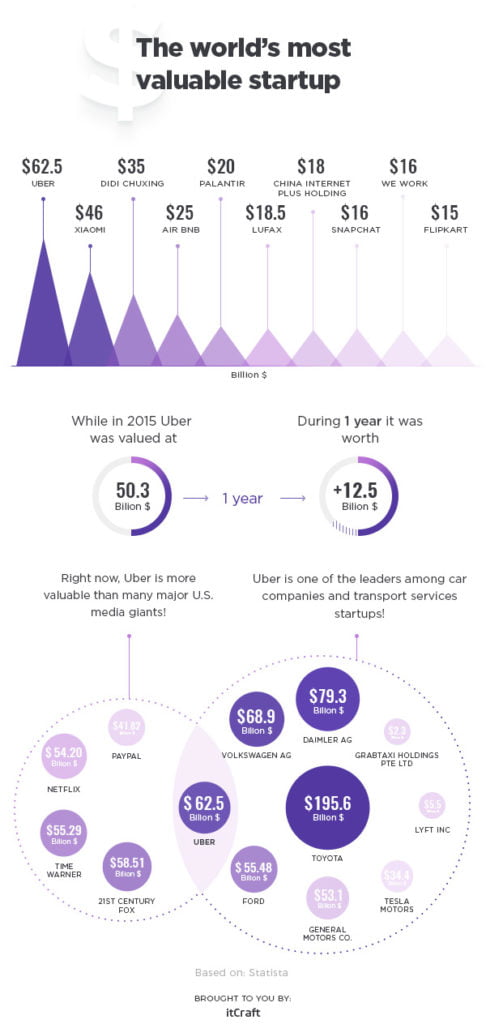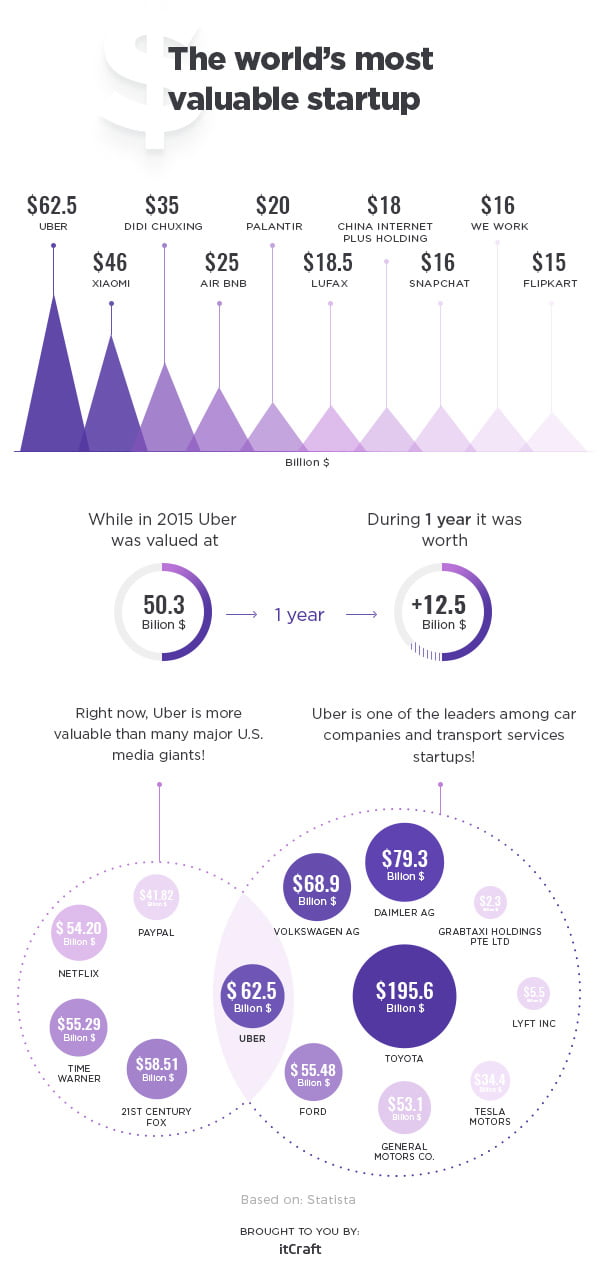 From a passanger perspective Uber is a perfect solution. You don't have to stop what you're doing to call a taxi, drivers know your location and where to pick you up, you see him coming, he comes quickly and you don't need cash to pay for the ride. If you are a driver, Uber is perfect for you as well. All you have to do is to register as one of the drivers, download the app and you are all set. You know how much you will earn per kilometer, you choose when you work and how many rides you take. All in all, it's a win-win situation.
Uber is the future, not only in the transportation branch, but in many others. The model where you order a trip through a mobile app, schedule a suitable time and date of delivery and they pay for it using your credit card can be applied to many other situations, such as ordering food (UberEATS) or even arranging for a doctor home visit (HomeDoctor application created by itCraft development company).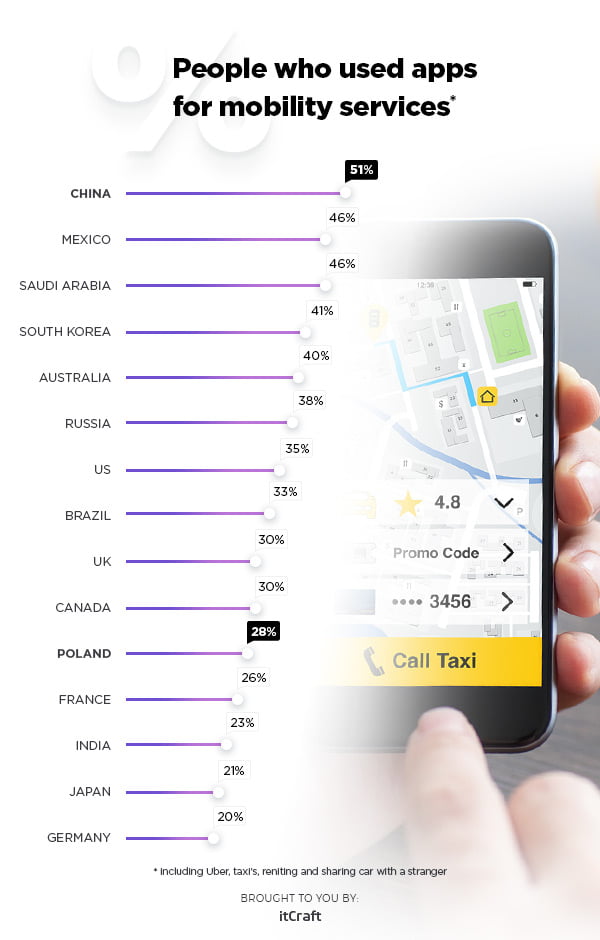 Elements of an Uber-like app environment
We regularly receive enquiries regarding development of such apps (12 so far!), be it related to transportation or other areas. As you can imagine, it's a complex and multi-staged process. To build an app you have to ensure the right mix of experience and talented development team, it's doable! Follow our step by step guide and find out where to start when you want to develop an app familiar with taxi booking platform.
Step 1: Product Design
First of all, we have to agree on the basic functionalities of the app: ways of registering user profiles and logging, payment options (eg. Apple pay, credit card), defining services, integrating the app with existing systems such as Google Maps and finally providing extra settings for every user.
Since the app will be used by two different groups (service users and service providers) you actually have to build two separate products that will meet the needs of those groups in terms of functionality, seamlessness of operations and safety of payments. It is important to have separate passenger app with booking interface and fare calculator and driver app with a simple cab booking interface that notifies about pickup point. Both should have unique UI and UX design to match users needs.
Step 2: Uber app development on Android or iOS app?
The best answer to the above question is: iOS and Android. An app like Uber requires 100% coverage. Discriminating users of either operating system can seem a cheaper option at the beginning due to reduced app development costs, but at the end of the day will translate into lost profits. Unless you have a very strong case against building your app for Android and iOS, do not spare time and money. Having your app working under both system will eventually pay off.
Step 3: A web app is a must
Although some mobile apps do not have a matching web application, in case of Uber-like app it's a must. It gives service users and service providers access to their profiles and advanced settings which are not part of the mobile app. Why? Because the mobile app is designed to match users and service providers quickly and hassle free. All other functionalities which are not not used that often should be outsourced to the web app.
Step 4: Admin panel
The whole system needs to be supervised by someone. The administrator will deal with technical problems as well as act as mediator between users and services providers should there be any issues. And so, the administrator's panel works as an umbrella system that controls and monitors everything that happens within the Uber type app environment.
Step 5: The engine: backend system and database servers
Backend development is crucial in such project. A special application has to be built to glue everything together and make sure it works properly. It's the engine of the whole system where all user data and system logic is saved. All communications between different elements of the system (mobile apps, web app, administrator's panel via push notifications) go through this component.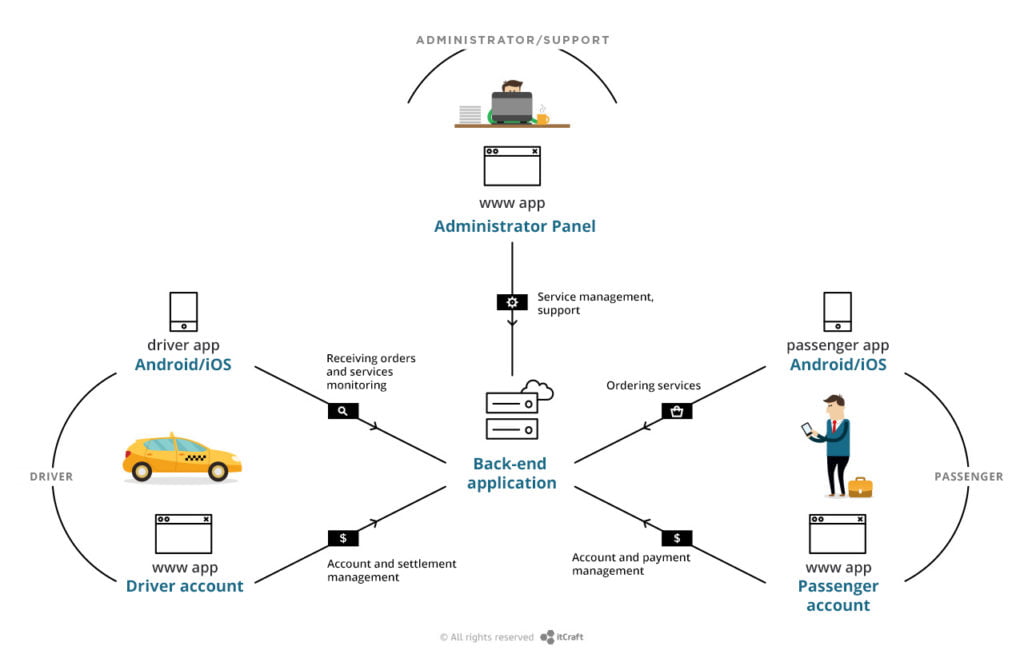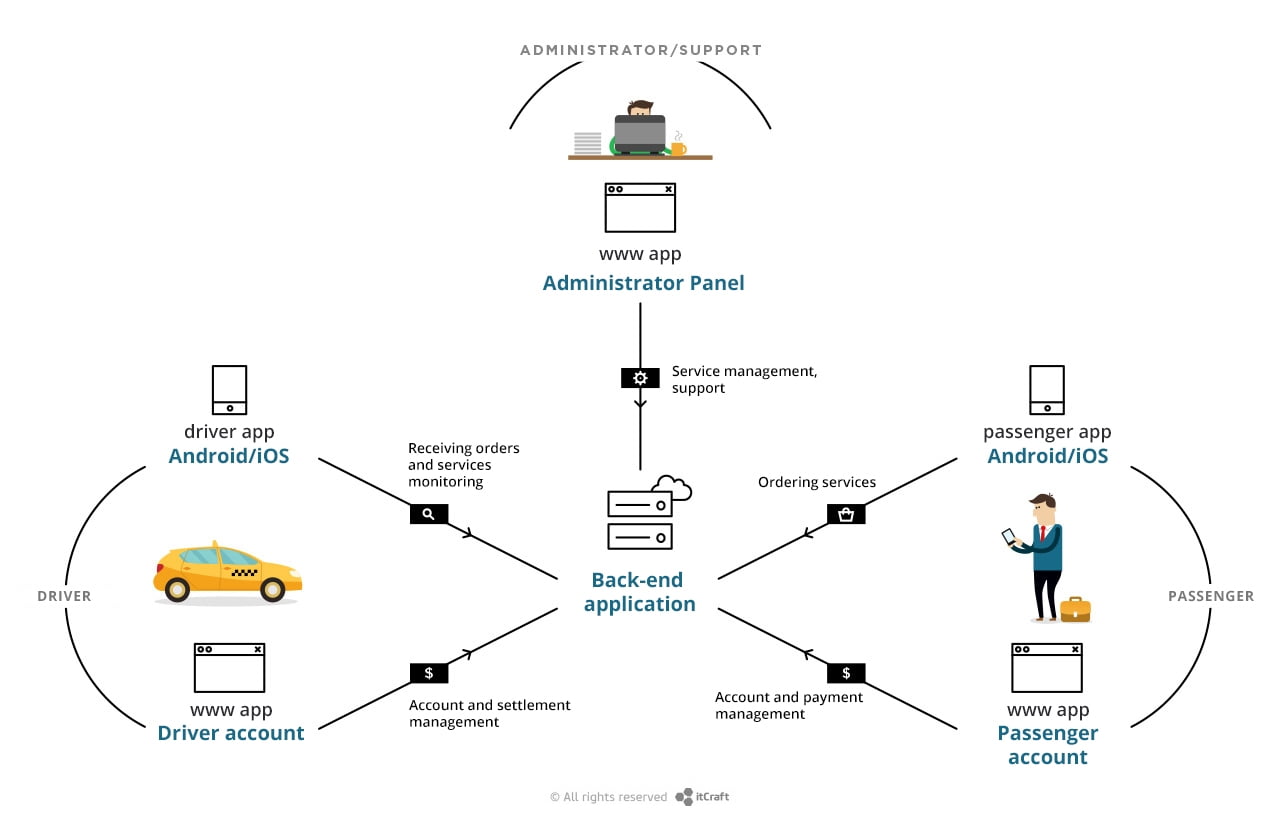 How much does Uber app development cost?
Mobile app development is a niche where estimation is hard to do. What budget would be required to create any application of this type? The development cost includes specification, graphic layouts, app prototype, implementation of all components, internal tests, acceptance tests and application implementation support. Building an app comparable to Uber can easily exceed total cost of 100,000 US dollars net depending on hourly rate (average price estimation).
Nevertheless, recent research shows that in the next few years we will remotely order more and more services. So, if you have an idea for an Uber type taxi app, creating it with the right partner such as itCraft can be the best decision of your life. Remember, unique business model is an essential element here!
---
Ready for your own Uber type app? Contact us!
---
---
---