14 min read
How much does app development cost?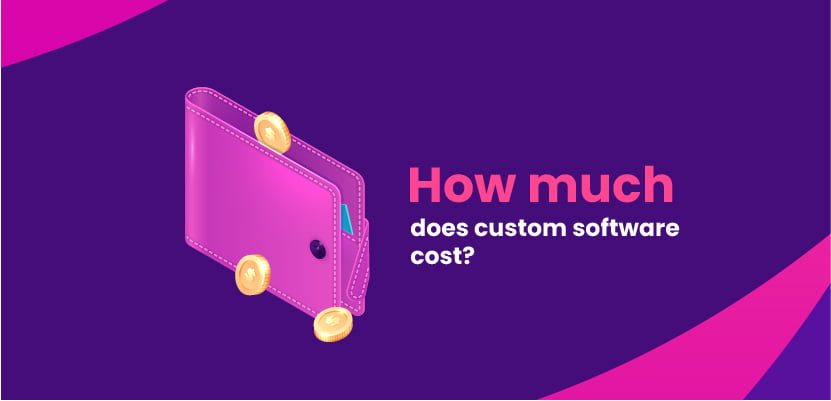 You might have heard that custom software development costs can be extremely high. We are not going to lie – you need a concrete budget to create a mobile application that will meet your business goals and satisfy your customers. The price is influenced by many factors and, of course, varies depending on the size of the project and detailed requirements. Still, if you want to work with a third-party vendor – e.g., a seasoned IT company – you need an extensive amount of money. Don't worry, we explain exactly why that is and how you can optimize the cost of the development process.
Table of contents
Software projects are complex and based on many elements. Coding and testing, design, management, maintenance – your development team will have a lot of work. They spend time and use resources to create the best product to fit into your new business strategy or complement the existing system. Let's take a closer look at the content we made about software development prices.
How much does custom software development cost?
You won't know exactly how much you will pay by reading a blog post, but we can estimate the cost very roughly. We've made a couple of articles about software development prices. That's because we know that custom software cost can be confusing for an average business owner that never did any application project. Our goal behind this content is to explain why development services cost so much and how the price can vary depending on many factors.
Think about this: making a new system with complicated logic will have a different cost than adding features to the apps that are already made. The software usually requires parts that are responsible for separate things – but if you have some kind of back-end done, then integration with other systems will take much less time and have lower costs. There are multiple custom software development services that we can offer and all of them are estimated individually.
To understand better how we predict the cost of solutions we build, we recommend reading the following articles:
How Much Does it Cost to Make An App in 2021? – The most basic and comprehensive guidebook to software development cost. We compare apps from many industries and discuss general aspects of custom software development in terms of price and time. You will get practical information about technologies, team composition and software size regarding features you want to have in the final product. It's a must-read for beginners that want to work with software development companies but are not aware of the cost per hour that they will have to pay to the vendor.
How much does it cost to make a booking type app? – Here, we focus on a concrete type of apps. A booking type application usually means higher software complexity – which can significantly influence the cost, especially if it's a new system that has to be made from scratch. As software developers, we know that these particular products often have many features and a custom approach is necessary – to make them work properly, according to business requirements. In a digitalized world, there is a big chance that your company will also need a booking app and if so, you should definitely read this piece.
How much does it cost to make a healthcare application in 2021? – Telemedicine became very popular in recent months. To be at the cutting edge of technology, business owners in the e-health industry need professional software development, which can cost a lot. This article explains why enterprise software projects for healthcare can consume more money and take a longer time to be made. We have a lot of experience in telemed apps, so you can trust us – we know what we are talking about, even regarding data protection and legal compliance.
How much does it cost to build an app like Uber? – This article analyzes the process of custom software development for a concrete type of product. We discuss the stages of creation, including their cost and meaning for the app. Apps like Uber are becoming more popular because such services convenient and beneficial for users. If you want to build something similar, this blog post will be handy.
How Much Does It Cost To Develop A Mobile App? – Fixed-price vs T&M – A slightly different approach to custom software development where we discuss average contracts used by every IT company. At itCraft, we prefer Time & Materials payment model as it offers flexibility and cost optimization, but it's good to know other options. All the pros and cons of these two models will help you understand why they are used in concrete projects. To compare them, we take criteria like product size, amount of work and UX/UI design requirements.
Also, if you want a more straightforward estimation of the software development cost for a generic application, we recommend visiting our Pricing tab. You will learn how much does custom software cost and what are the factors we keep in mind when estimating the price of the project.
Cut the cost of custom software development with outsourcing
As software developers from Poland, we are often the first choice for clients from abroad when it comes to outsourcing. Hiring a third-party vendor from Eastern Europe is a growing trend among business owners from the US, Australia, Canada and even Asia or Africa. Western European enterprises also prefer to go east because they can significantly decrease their app projects' cost per hour.
We know that outsourcing (especially offshore) is a common way of optimizing the budget, so we are not afraid to promote this type of collaboration and explain how it works. We do just that in a couple of blog articles we released. Check them out:
What Is Software Outsourcing and How Much Does it Cost? – Finding external software development companies that will meet your needs and requirements can be challenging, but we explain how to do it in this blog post. Everything about effective outsourcing is presented in a simple form. We talk about price differences in various locations and discuss software development outsourcing with advice on choosing the right developers.
Staff augmentation – a new way of outsourcing or just a new word for it? – This article is focused on a particular outsourcing type. Sometimes you don't need to hire a whole team of developers. You might have your own IT squad that lacks one or two skills. Maybe migration of existing data is tricky, or you want to get a software developer that knows a specific technology. Staff augmentation is for you – just contact us and we will lend you a specialist or two, depending on what you want and need.
How Much Does it Cost to Outsource App Development in 2020? – An updated guide on software development cost when it comes to outsourcing. There's a range of pros and cons we talk about there. You will get a full spectrum of information regarding locations, different outsourcing methods, and stages of the process. Your project will be in good hands if you hire software developers from a trusted, reliable IT company.
Software development is like building a house
This means that every application project needs several elements to look good, function properly and become an integral part of your business strategy. You need the creative design so your UX and UI will be splendid and give your customers a one of a kind experience. Each software developer is responsible for a different part of the project – there are back-end and front-end developers that need to collaborate to achieve desired effects. Then, there's quality assurance, where testers look for defects and prevent the application from future problems. All of that shapes the price of the project.
Some activities can vary when building software applications – because clients might need something different. Every application processes data differently, depending on its purpose. Some need more heavy analysis of data where number crunching can lead to spectacular results. Others might rely on something simple – it usually applies to smaller, less complex projects.
We don't always create new software for companies we collaborate with. Or we do, but they have previous apps and we need to move the data between two systems. We use custom scripts to process data in an existing application so it can run on a developed product. If everything is translated correctly and the new software is working fine, the migration efforts are successful. But it can be a challenging and time-consuming process that will be charged extra – which will increase the cost of software development.
Then we also do systems integrating where we can connect your apps to other essential solutions for specific functionalities to work. Such integrations like payment gateways require technical knowledge – software developers need to add them to an app without disturbing its code. It's another operation that can cost and extend the duration of the project.
Every app needs a perfect design that will be responsible for a seamless, positive user experience. Custom software development means we create a product that is not generic but unique and stylish. We present many prototypes to the client during the process so they can eliminate unwanted elements and tell us about adjustments they would like to make. The range of example screens and mockups depends on the size of the project. Our design team is always open to suggestions and they build UX and UI according to current trends. Remember that the cost of your software also includes design.
How technology influences the cost of custom software development
As you can see, even an average project needs a lot of work. Developers spend so much time perfecting your web or mobile app. That's because custom software development means creating apps according to individual requirements and adjusting them to your customers' expectations. We take care of everything – coding, design, testing, project management and more. There is another factor that can be crucial for the cost of software applications. And that's the programming language or framework we will use to build them.

The time when making an app for just one operating system was enough is over. Right now, you need to get one for Android and one for iOS. These two systems are used by average customers worldwide, so having two apps won't hurt – you will have a chance to reach out to a range of clients, so your company will benefit from this solution. The question is – should the developers prepare two native applications or one cross-platform product for you?
Our content will help you to make the right decision. Some software development companies claim that cross-platform projects can cost much less than native and that they significantly decrease the time spent on coding. It's not entirely true, but a well-planned project with a technology that suits your needs and goals can be a bit cheaper. Here are some articles about frameworks and languages.
Cross-platform vs native vs hybrid vs PWA development – The first place to visit if you want to learn about the wide range of technologies you can choose from. We compare each type of custom software development to find out when picking them is justified. Our goal with this blog post was to present each solution's pros and cons – because there are no wrong apps but picking a framework that doesn't offer required features might be a problem.
Standard mobile applications are usually coded as native or cross-platform. If you are still unsure which one could be better for you – get our ebook, where we explain the main differences between the two. Inside, you will find real examples of companies we collaborated with. They present their success stories and discuss why they picked one technology option over the other. It's an ultimate guide to custom software development using various languages and frameworks.
Flutter vs React Native – cross-platform frameworks comparison – If you think that cross-platform might be better for your product, we recommend checking out this article. Flutter and React Native are used by our developers to deliver robust, multi-platform solutions. Many projects we did with them achieved success. That's because these frameworks offer a lot of useful features and splendid UI design. In this piece, we discuss the advantages and drawbacks of both.

Agile for cost optimization in software development
There's another factor that can cut the cost of custom software. You have to know that not only technical aspects influence your final app budget. Good project management and work organization can definitely lower the price per hour for every software product. In our blog posts, we teach our readers and clients about the principles of Agile and Scrum – methodologies we use in all of our projects. Why? Because they will become a part of the process. Knowing the rules of the game will help you participate and become an active member of the team. Here are a couple of blog posts full of useful information.
Agile software development – We are an IT company that is fond of Agile. Our custom software development process was improved a lot when we decided to use it as a project management method. Agile can be great for every team, no matter its size and composition. This article talks about this tool's basics and presents its benefits for developers, product owners, and other involved parties.
MVP app development – Lean and agile way to develop anything – And here's one thing that we believe can save a lot of money in a longer perspective. Minimum Viable Product (MVP) is an initial version of an app used to test ideas, collect feedback and verify assumptions. It saves time because it prevents the team from working in vain. Knowing users' opinions does the same thing. Basically, we recommend MVP to all of our clients to save their projects from unnecessary costs.
So how much does custom software cost really?
You probably know the answer already: that depends. You can read all the articles above and you won't know the exact cost per hour or the average price for new projects our developers work on. That's because this range is extensive and depends on so many things. Still, that doesn't mean we want to discourage you from looking for the answers. If you have an idea for custom software and want to approach itCraft to get an estimation, it is good to know what you can expect.
Don't worry, though – we will take care of everything. Depending on your project's size, we will pick the right team with developers, designers and testers. You will get support from our project managers and business consultants to ensure everything goes according to the plan and meets your needs. With itCraft, you can feel free to communicate your ideas, pains and requests – because we know you have the expertise and insights when it comes to industry and customers.
We hope that our content about custom software development will help you to understand better how much time and effort we put into every product we create, no matter its size and range. We will always do everything to help you reduce the cost of an app, but you can trust us with the investment. Your money won't be wasted, that for sure.
---