Your quick guide to Product Discovery Workshops and Consultations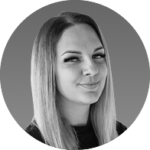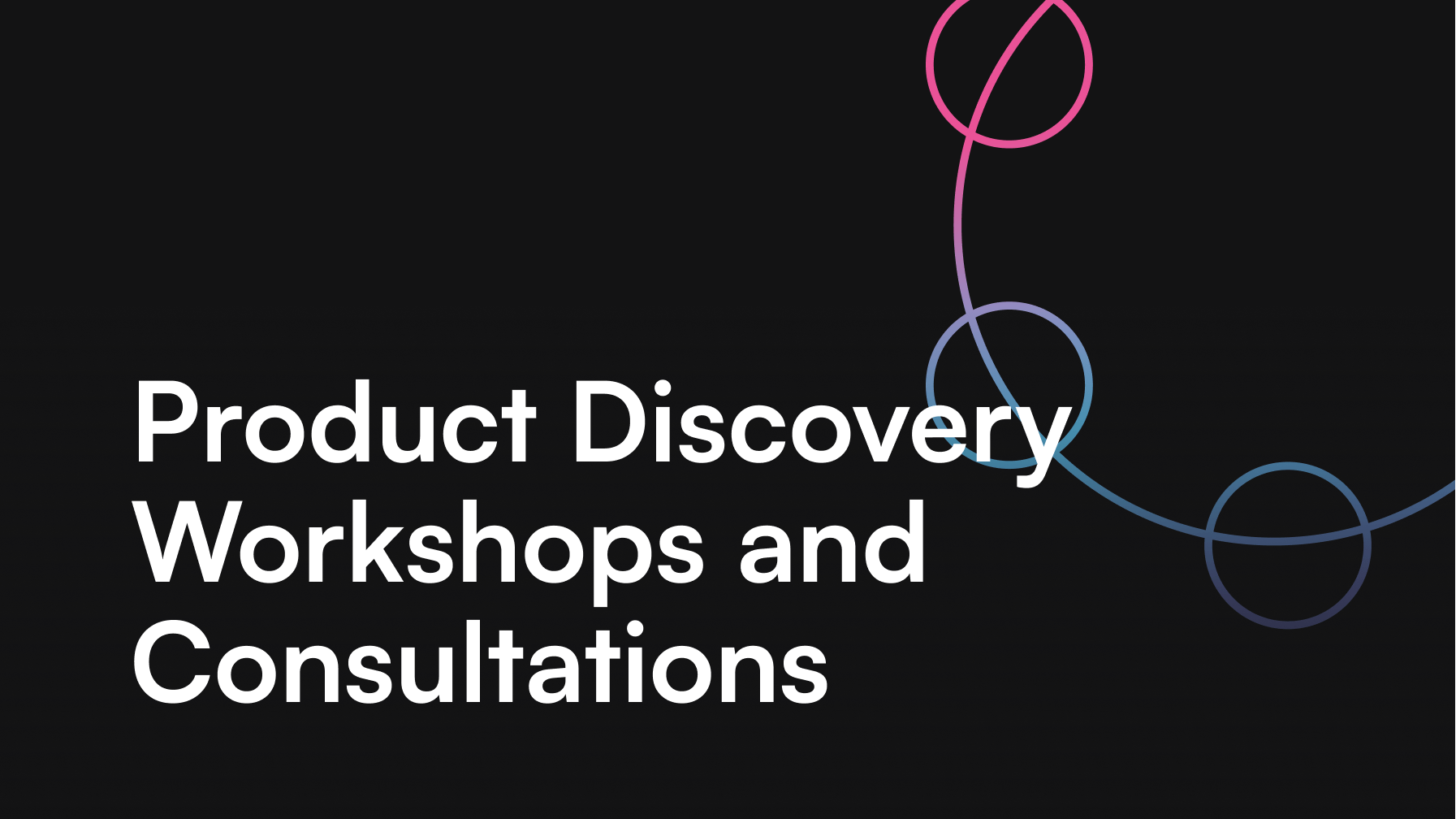 During the initial planning stages of software development, workshops and consultations are a critical step to ensure that both parties are on the same page and striving toward the same goal. The best way to find out how much it costs to make an app is to reach out to a development agency and tell them about your project. We encourage you to contact us – we would love to discuss your business needs. We will propose the best solution suitable for the type of app you want and your potential user's desires. Let's make an app in 2021 together!
Table of contents
At itCraft, your initial workshop and consultation will do exactly that. Your initial workshop and consultation will give you ample time to discuss your ideas, progress, goals and all other factors with itCraft's team of experts who will handle the development of your project from this very first meeting right through to its delivery and ongoing maintenance.
In this article, you'll take a deeper look at what exactly happens during the first workshops and consultations with itCraft, why they're so important to the software development process and how you and your business can get the most from them.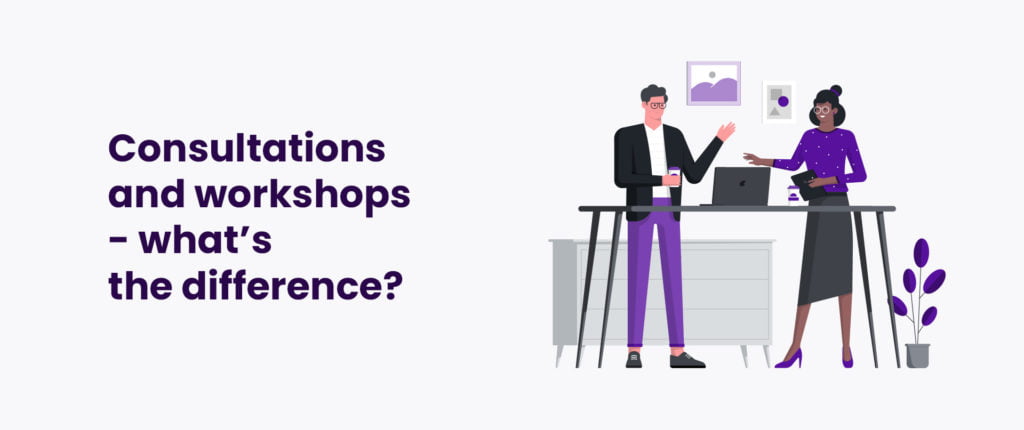 Consultations and workshops – what's the difference?
In the search for a software house or technology partner to develop your app, you'll find a wide range of businesses. Quite often, you'll be bombarded with high-end features and the versatility of their work ethic, but that ultimately means nothing if the software houses' skills are out of sync with your business goals.
The best software house to develop your app is one that will spend the time with you and ask 'why'. And that's precisely what itCraft's consultations and workshops do. By getting to know your business, it's goals as well as the target audience for your app, you can be adamant that your software is developed to meet those needs, rather than just keep the software house busy with work.
With itCraft, your initial 'discovery' call will last approximately 15 minutes. In this time, you'll tell our business experts your main idea and current position and what you want to get out of your software. Extra discovery calls can be planned if needed.
The next step is a 'workshop', and can be done either face-to-face or remote. Up to two days of meeting will be had, where you'll meet with itCraft's team to discuss the technicalities and finer details of your project. It's this workshop where you'll also discuss your competition and what makes you different, and how these elements will affect the development of your app. You'll also go into great detail about UX and UI, technologies, as well as budget, timeline and the production process.
Workshops and consultations are the ideal way to get your ideas into the heads of our skilled and experienced business specialists and developers, who then turn your ideas into something real. However, it's the detail that these meetings go into that mean you get an app that can be the basis of your business and exceed your goals.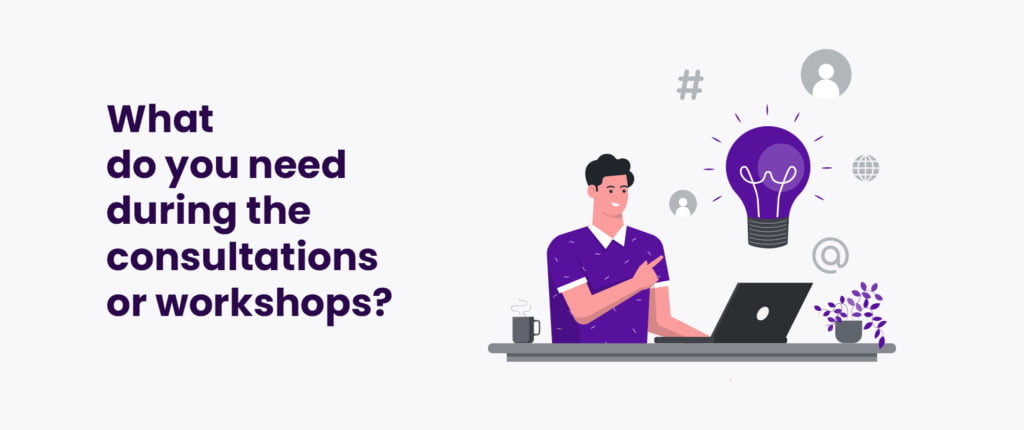 What do you need during the consultations or workshops?
The most essential part of a consultation and workshop is yourself! As an active part of the discussion, your unique reflections about the industry, potential clients, opportunities and threats will help shape the way that your app is developed. If someone from your team is an integral part of the process, bring them with you – your team's experience and insight will also be valuable.
Of course, if you have anything that might help us develop an app for you, let us know about it. You may already have a business plan, or your team may have done some kind of research. Even the drawings you made on a piece of paper are useful to show the direction you want your software to head. Whether it's number-based data or your ideas written in a notebook,everything counts.
During your workshops or consultation meetings, there may be a need for additional information about some parts of your business. You'll be told exactly what's needed and our team of experts will help you find it if you don't already have it on hand.
What are the benefits of consultations and workshops?
Consultations and workshops not only give you a technical overview about the project in general but also leave you with an initial outcome that will be helpful for the next steps of your business expansion.
First of all, workshops and consultations help us work on a timeline that suits your needs. Discussing all the details before the actual process starts allows the team to deliver your project when it's needed… Workshops also help us outline the strategy for product development with future releases and maintenance of your software. It's at this point that we agree on programming languages and frameworks that will match your product perfectly.
Workshops also produce a UX/UI prototype, Minimum Viable Product and documentation. These are not only a useful guidebook for you and your stakeholders, but also help us work to a timeline that suits you. These assets can also be presented to potential investors that will fund you more willingly if you prove that your product can be valuable and functional.
During workshops and consultations, you will meet some key members of the itCrat team who will work on your project. Together with these business specialists, you will prepare user stories, required specifics of your product, and personas that will represent your target audience. We believe that understanding your customer is crucial for the success of your business.
Verifying the idea itself is another core part of this process. When discussing the project, you might realize at one point that the product isn't flawless. But that doesn't mean that you shouldn't develop an app to test this outcome. Together with our business consultants, you can flesh out another idea that will be more suitable for your brand and audience.
Who should invest in consultations and workshops?
Anyone can benefit from our IT consultations and workshops. Whether you own a new startup or an established enterprise, we can help you develop a completely new product or improve the existing one. Even if you only want to tweak your app here and there, these meetings help us understand your expectations and create the best solution.
You may even have an idea for a digital product without any precise details. We can work on your project step by step to transform it into a working app that will be attractive to customers and profitable for your business. We will analyze your goals and prepare a strategy from the initial phase to the release date.
If you already have some kind of software that doesn't meet your expectations, we're able to take over and work on it. We will examine your current product during consultations and workshops and propose the best solution to fix this existing product. We can also expand the existing, well-working product you have by adding new functionalities to it.
Our previous and current clients can book consultations as well – to make sure they are following the right direction in terms of product development. If you collaborate with us, remember about this possibility. We become your business consultants for the project's whole duration and, if you wish – afterwards.
As you can see, everyone can take advantage of the workshops and consultations we organize. That's why we usually begin every project with workshops and recommend consultations to all companies that are looking for a reliable IT partner.
Conclusion
We genuinely appreciate consultations and workshops as a tool to better understand our clients and prepare ourselves for every project. We did many sessions with startup owners and company representatives from various countries and industries. Our software development skills were used for telemedicine, retail, fintech and e-commerce projects from almost every continent. If you are interested in our services regarding business consultancy – contact us! Working with itCraft means you will gain a trustworthy, open-minded team of specialists that will prepare a product from scratch or improve the existing one just for you.
Our goal is to become a part of the journey to business success within your niche. Project managers, designers, developers, testers – everything is included if you decide to go with itCraft. We are listening to your needs and apply solutions that are suitable and effective. Let's talk and find out what you have in mind. Together we can achieve something incredible!
---
---