Top 11 best WordPress alternatives – which ones to use?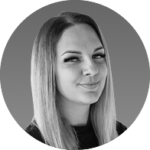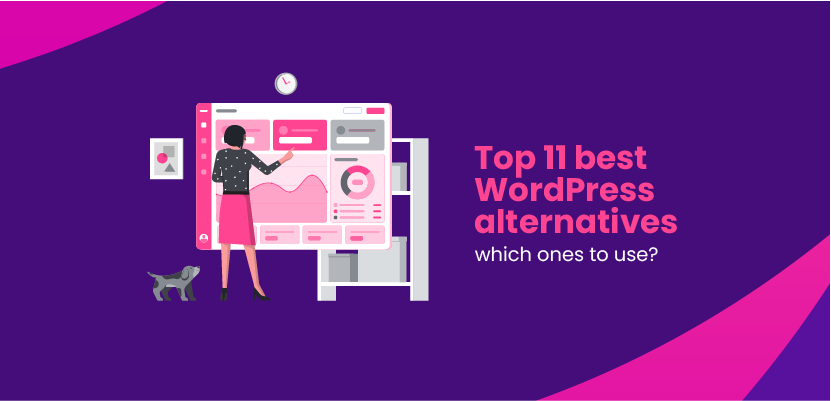 WordPress is an unquestionable leader when it comes to content management systems. It's the most popular CMS worldwide that powers blogs, eCommerce stores, business websites and more. The platform powers 37% of the internet, and that's not a surprise considering its intuitiveness, customization possibilities and a rich library of plugins. WordPress is SEO-friendly, which also makes it a perfect solution for beginners, meaning people who want to enter the online world with their business or personal brand.
Who takes the remaining 63% of the market, though? There are many alternatives to WordPress, and although they are not as popular as the biggest player, they offer some interesting features. In this article, we will talk about website builders, software dedicated to online shops and blogging tools that can be used instead. We will discuss their pros and cons to give you an idea of how they are different from WordPress and what they can bring to the table. Let's go!

11 WordPress alternatives
WordPress' dominance is growing every year. Compared to 2016, it increased by 10%. That doesn't necessarily mean it will stay this way forever. Knowing other options can also be helpful when looking for a perfect CMS for our business needs. So here are the main alternatives we think are worth knowing about:
Joomla
The third most used CMS around the world. Although this sounds like Joomla should be a strong player, it's hard to call it a competitor to WordPress when its market share is less than 2%. Moreover, while WordPress experiences steady year-to-year growth, Joomla usage is constantly decreasing. Still, it's a technology you should know about because it's been around for a while.
Joomla was released in 2005 and is a free-to-use, open-source, PHP-based content management system. In August 2021, the fourth version of Joomla was showed to the world, and for a CMS that has been on the market for 16 years, it is impressive how regularly it is updated. It actually won several awards for being one of the best free systems.
As for technicalities, it works similarly to WordPress. You need your own hosting server to install Joomla and start working on your website. The CMS provides various tools for content creation and customization. It has a built-in SEO optimization feature and offers premade designs to implement on the website. Multilanguage support is included within Joomla, which is different from WordPress that requires a plugin for that.
Joomla is claimed to be great for websites with a lot of content, as it offers excellent media and user management. If you run an enterprise that handles many activities on their page and you need to upload different types of materials, this CMS might be great for you. It is recommended for institutional websites, educational companies, corporations and social networks. Moreover, Joomla is considered more secure because hackers more often attack big platforms like WordPress.
When it comes to drawbacks, Joomla is not great for beginners. WordPress is really easy to learn, and its UI is super-intuitive. Joomla, on the other hand, is complicated and complex. It has fewer extensions than WordPress, yet some functionalities are already in the CMS itself and do not require add-ons.

Shopify
We've decided to write about it after Joomla, even though it is now the second most popular CMS and the number one eCommerce platform around the globe. That is the particular reason we didn't put first on the list. It is dedicated to e-stores, and not every person that needs a content management system wants to build an online shop. However, when it comes to this niche, Shopify defeated WooCommerce, WordPress' most popular eCommerce plugin. Let's see why.
Let's start with hosting, and there are two messages: good and bad. The good one is that Shopify is an all-in-one solution, which means we do not need our own server space to build a website on it. However, that means there is no free version of this service. You will always have to pay for it. There is a free 14-day trial, though, and prices start from $9 for small blogs to $299 and more for enterprise plans.
Paying for CMS is not always a bad thing, and that's exactly the case when it comes to Shopify. The monthly fee gives us access to a drag-and-drop website builder, a plethora of extensions, themes for our store's design and many other tools created especially for aspiring online sellers that want to kickstart their eCommerce journey.
Shopify is relatively easy to learn and use. The journey begins with a guide that helps the user get to know the platform. Also, we can contact their support team if we need any help. It also has many eCommerce-specific features like taxes management, multiple currencies, social media tools for marketing, security measures and more.
As for the negative aspects of Shopify, the example might be a transaction fee that is charged if the user doesn't use the internal payment gate. That means limited options for your customers when it comes to payment methods. If your business rapidly grows, you will also need to pay more for a higher plan, so scalability is not as flexible as with WordPress. And remember that every CMS with its own hosting doesn't give you as much control over your online presence as when it's self-hosted.
Read our article where we compare WooCommerce and Shopify to learn even more!

Drupal
The oldest CMS on our list, Drupal, used to be one of the market leaders. Its share is decreasing yearly, but approximately 1% of websites run on this 20-year-old technology. It's based on Symfony, a PHP framework, and is regularly updated – the latest version was released in May 2021, and the next is announced for November 2021.
In many ways, Drupal is similar to Joomla. It's an open-source CMS that is free to use. The only thing you need is hosting, which is the cost you have to bear to run your website. There are plenty of extensions and themes, which is usual for established content management systems. Drupal integrates with external tools for SEO, eCommerce and marketing, too. It offers built-in multilanguage support.
Drupal is considered more advanced to use and dedicated to expert web developers that know a thing or two about coding. If you don't have a technical background, it might take hours until you learn how to build a website in Drupal. WordPress has a much smaller learning curve. If you don't have a robust, complex project in mind but rather a simple blog, you shouldn't choose Drupal as your CMS.
Security, performance and user management are the pros of Drupal, so if you want to create a web solution that has a lot to offer, works excellent and provides data encryption, this system might be suitable for your needs.

Squarespace
Often advertised by influencers, Squarespace is not precisely the same as WordPress. It's not software that you can install on your server, but rather a platform where you create an account and get access to a website builder. The end goal is the same, though – to create a page that will meet your requirements. That's why we mention such services in this article.
Squarespace is not free to use, which is not a surprise regarding the type of content management systems it represents. It has a 2-week trial, and the subscription plans start from $12, paid monthly or annually. There are several options for different types of users. For example, if you want to run an eCommerce store, a higher subscription will suit your business. It has more features and a 0% transaction fee.
The process of building a website on Squarespace is relatively straightforward. You create an account and then get access to the whole interface, including a DIY website building feature. Basically, it implements a chosen theme that can be customized with different content, color schemes, fonts and more. The features are somewhat limited, especially if you subscribe to a lower plan. Also, Squarespace doesn't support any extensions, so you have to work only with what they provide. The same goes for adding code, as it isn't open-source.
To sum it up, Squarespace is a perfect tool for beginners and users that not tech-savvy whatsoever. It's intuitive, user-friendly and will do if you want to create a simple webpage. It's great for portfolios, small e-stores with limited inventory, blogs and aspiring businesses. There are many website builders on the internet, but Squarespace is claimed to have the most optimized and best-looking themes, which is also a plus.

Weebly
Yet another website builder that is not only an alternative for WordPress but also Squarespace. It works similarly to the previous solution. It's hosted, so you have to pay a fee to use it. Interestingly, though, there's a free version that you can use, but it doesn't have too many features. The $12 plan is claimed to be the best for beginners. Also, there are separate subscription plans for websites and eCommerce stores. That's because Weebly accounts offer different functionalities, depending on your business model and needs.
This CMS is considered to be very easy to learn and use. Its drag-and-drop builder is more intuitive and user-friendly compared to other similar solutions on the market. Weebly offers many designs for blogs and built-in features required to run a functional website. Also, many people recommend it as an excellent choice for one-page sites like resumes and portfolios.
Most of the plans are not great when it comes to online stores because Weebly charges transaction fees of 3%. Add payment gate fee to that, and the cost becomes significant. Only if you choose the $25 plan or bigger, you can get rid of the Weebly fee. So eCommerce sellers might find better solutions, but for small websites, this platform will be perfect. Especially with the free plan – which wins with WordPress, which always requires paid hosting.
Weebly seems like an alternative for people with specific needs. It's limited but has its advantages. If you pick it and want to change the platform later, it's okay. It is possible to migrate a website from one CMS to another. You can start smaller and try to make your business stand out of the crowd on a free platform and when it skyrockets, move to a more robust, scalable system.

Blogger
Formerly known as Blogspot (the URLs still have the domain name.blogspot.com), it used to be one of the most popular alternatives for WordPress when it comes to creating blogs. It's an entirely free service provided by Google. Everyone who has a Gmail account can start their blog with this platform. Many influencers still use it to host their online spaces, although they usually purchase a domain to cover the default URL.
When it comes to design, free templates are not spectacular, and many things can be changed only by editing the HTML code. This means that if you don't have a technical background, you have to ask someone for help or buy a premium theme from one of many online sellers. They look much more sophisticated and modern but also provide more features than basic Blogger templates. That might be the only investment you will have to make initially, so if you don't have a budget, you have to deal with what Google gives or choose another CMS.
Blogger is definitely easy to use, except for the template edition. You just register your account, log in, and you can start publishing your content. However, you don't have any ownership of your blog whatsoever. That's actually a fact for any website that is hosted by an external provider. Unless you put your website on your own server, it can be deleted or blocked at any time for no reason. That's why many creators migrate from Blogger to WordPress.
The advantages of this service are mainly based on the fact that it was made by Google. It provides security and advertising opportunities for its users. Still, Blogger is not the best platform for big eCommerce stores, business websites and anything other than simple blogs with maybe several products to sell.

Medium
Medium is not a CMS, but we are mentioning it in this article for a reason. Many companies use this publishing tool as their blogging platform or a social media platform for sharing their content. Why? Because Medium has a large community of people passionate about various topics. Being there can be profitable marketing-wise, as you get exposure, increased traffic and new prospects.
This solution is not a website builder, though. There are almost no customization options, so every blog looks the same. You can pick your fonts or change the design of your page. Moreover, some time ago, Medium stopped supporting custom domain feature that was used for boosting SEO. Now, if you publish there, the URL will always be name.medium.com – and it won't influence the position of your actual website in any way.
The platform is perfect for beginners and people who just want to start sharing their content without spending too much time building their online space. It's also a great way for brands to make authority within a chosen niche, but it shouldn't replace an on-site blog. Publishing on Medium can be a small part of your promotional strategy, and if you interact with the audience, it might bring you several benefits.
Medium is free to use, but there is also a paid membership for $50 per year or $5 per month. There's also a Medium Partner Program that allows the users to post premium articles and earn money with their activity on the platform and by engaging the audience.

Tumblr
Another platform that is not particularly a CMS but more of a social media network. It also has a big community, although it's not so popular as several years ago. Still, it can be a great place to share thoughts and all types of visual content without any technical knowledge. Tumblr positions itself as a microblogging tool, and it's not particularly useful business-wise.
There are many themes to customize the design of Tumblr blogs, but they are not really advanced, so it's challenging to create a truly unique website. The service is entirely free to use. What's essential is that Tumblr doesn't support eCommerce sales or monetization, so it's impossible to make money out of content creation on this platform.
As it's a hosted solution, all you need to do is create an account and start blogging. You get access to customer support, and Tumblr takes care of hosting, security, maintenance and performance. Still, using this type of "CMS" means that if it shuts down, your content will disappear. You don't have any rights to it as you do not host it. Moreover, Tumblr is well known for its strict community guidelines that, if violated, can lead to banning you from the platform.

Ghost
A less known WordPress alternative that had its peak several years ago. The founders claimed that the purpose of Ghost was to focus entirely on blogging and nothing else. They felt like WordPress changed direction and became a CMS to build all kinds of websites. Their goal was to provide features that every blogger needs to focus on content creation and not technicalities.
One of the most unusual features of this CMS is how it handles hosting. It offers a choice: either you create an account and pay a fee to use a hosted version or download the software for free and install it on your server. It's a great proposal because it meets various needs, but there's one thing you should be cautious about. Ghost recommends only two hosting providers and strongly emphasizes its paid pro version. That means you might be unable to install it on the server of your choice. When it comes to plans, they start from $9, and there's a 14-day free trial.
Ghost has a basic drag-and-drop builder to customize blog design, and it also works with themes. It has a marketplace full of templates for different types of publishers and integrations with various services. They also take pride in their built-in features for SEO, newsletters and other functionalities that in WordPress are provided by plugins, sometimes paid ones.
If you want to build an eCommerce website or a business-related online space, Ghost is not the best choice. Its interface is merely dedicated to blogging. Although it claims to be a much better choice than WordPress, it will not always be the case. Not everyone can afford paid plans, and installing Ghost on your own server can be problematic, which is not the case for WordPress.

Jimdo
An interesting AI-based product. Jimdo is a website creator that has a truly unique feature. It creates pages almost automatically, based on your answers to some questions. Of course, the design can be customized by you at any point. The builder is a classic drag-and-drop, which is excellent for people without technical skills and coding knowledge.
It's another hosted solution, but it has a free plan with very limited options. Paid plans start from $9 for websites and $15 for eCommerce stores with dedicated functionalities for selling goods. The most expensive subscriptions for both cost $39 per month, which seems like not a lot compared to other CMS platforms we've discussed. Each version has additional features, extensive storage and more pages (for the free plan, it's only 5).
Jimdo is considered to be more straightforward than Squarespace. It's a similar service, but Jimdo's interface is even easier to use. That's why it's another great solution for all creators that don't want to take care of technicalities or have no experience in programming. The service can also be utilized by businesses, and it will be the best for smaller entrepreneurs or new companies.
The main limitation here is that you won't have complete control over your website, which is not the case for self-hosted websites (for example, built with WordPress). Since Jimdo is a simplified version of other website builders, it also has fewer features, which means it won't meet the needs of all users.

PrestaShop
Last but not least, there's another eCommerce dedicated platform. It's been around since 2007, and it built its reputation as a reliable e-store CMS, best for small and medium enterprises. PrestaShop is open-source and free to use, just like WordPress. All you need is a hosting provider to install it, and then you can start building your online shop. People say that actually PrestaShop can be adjusted to any business needs and doesn't necessarily have to utilize eCommerce features if you just need a website. Still, it is recommended mainly for sellers. WordPress requires a WooCommerce plugin to unlock its full eCommerce potential.
PrestaShop has features that every CMS and e-store platform needs, including content, stock and product management, statistics, security and performance measures and multilanguage support. It also has a marketplace with extensions and templates to customize your website's design and functionalities.
PrestaShop has limited built-in features when it comes to SEO, and the add-ons dedicated to optimization are paid. That means you might get frustrated if you are serious about search engine optimization for your eCommerce shop – and you will be because it's an essential marketing activity to grow your business.
This platform is considered easy to use, comparable with Shopify we mentioned above. The same goes for security, maintenance and customer support. If you pick a hosted solution and pay for CMS services, the provider handles all that for you. At the same time, if the company suddenly bankrupts or for some reason shuts down their product immediately, you will remain without your website whatsoever. Fortunately, if the brand announces its shutdown beforehand, you can migrate PrestaShop to WordPress.

Which WordPress alternative should I pick?
As always, the answer is – that depends. As you can see, each platform we've mentioned in this article is different. They have various hosting options and subscription plans, are dedicated to diverse business models and offer features needed for bloggers, eCommerce stores, small businesses, or sophisticated enterprises. Some specialize in just one niche, and others are more universal. One thing is for sure – there is no perfect solution for everyone.
To pick the right product, you have to analyze your needs, goals and requirements deeply. Think about your target audience. What do they expect from your company? What do you offer, and what's your product's unique value? Describe the relationship between your brand and its perfect customer. If you have resources, perform some research and see what conclusions you will get. Remember that your clients should be your highest priority.
Next, think about the features you need to run your business and satisfy your clients. Are you an international brand with hundreds or thousands of goods for sale? Or rather a small company with only several items in the store, but a significant base of blog articles that provide a lot of knowledge to your audience? Or maybe you are a company that doesn't sell anything, but you want to advertise your services to potential customers? All these options will require specific functionalities, which should be another factor that will influence your choice of a CMS platform.
Another thing you should strongly consider is if you want to collaborate with an IT company that will set up and customize your website for you. Some of these tools do not require technical knowledge or skills but still might require help from software developers to make it work as you need them to. If you are a beginner and don't have a budget to hire someone, it's best to pick a user-friendly solution that offers basic design themes or a drag-and-drop website builder. The page probably won't have everything perfectly adjusted to your needs, but it's a start. To achieve even better results and optimize our online space, you will need programmers, testers and designers on board.
Such investment is definitely worth it because you get a web product curated to match your business goals. Usually, an IT provider also has business analysts and consultants on board. If your idea doesn't fulfill all the assumptions, they can always help you change it into something profitable and valuable for customers. That's the ultimate objective you should always have in mind.
At itCraft, we can help you build a website from scratch or adjust the existing one to the modern need of your clients. We provide anything and everything that you might require. Our team will support you from the initial discovery stage and workshops to the day of release and beyond. We will help you with marketing, maintenance, updates and all the difficulties you might stumble upon along the way. Let us know what you have in mind so we can work together towards your company's future.
---
---