The issue of coronavirus contact tracing apps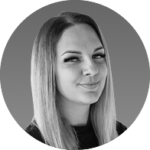 Desperate times call for desperate measures – they say. In times of global pandemic and the following economic crisis, governments and international organizations wonder how to protect people against the virus and prevent its spreading. Isolation can be sufficient to some extent, but people are still going to work and do grocery shopping. We can't lock them down completely, so society members are still exposed. Maybe technology can help? Indeed, but how to use it without crossing ethical boundaries? Let's see what is going on in that matter right now and analyze the security measures in reference to our privacy.
The idea – contact tracing app
The modus operandi of a contact tracing app is quite simple. It maintains Bluetooth connection in every phone that it is installed in. Then, it constantly monitors our distance to see who we are stumbling upon. This way, health facilities can predict the potential coronavirus focal points and prevent it from spreading by ordering quarantine.
Some countries are planning to make this kind of app mandatory, while others say it's not going to be that way. Research shows that a contact tracing app is accurate if half of the smartphone users in the country have it on their devices. Tests are conducted now in Australia and the UK's Isle of Wight. And the app awakes a lot of controversies.
How does a contact tracing app work?
You can download it from Apple and Google stores, also by accessing a dedicated website run by the government. After the installation process, the app will ask for your name or pseudonym, age range, postal code and phone number.
Personal data is then encrypted and stored on the government's server. Every time someone comes in contact with a person that could be infected, the authorities are signaled. Phones record everyone next to us and also is registered within the system using Bluetooth connection. If there's a potential threat of Covid-19 spreading, the state will contact everyone who could be exposed to it.
That's technicalities, but what about privacy?
Who can access the data?
Privacy concerns are not something unusual in this case. Contact tracing apps store lots of personal information like location data, name, or phone number. They are stored in smartphone apps, which is already a threat since now everyone locks their device and they can be easily lost and found by someone else or just stolen. This way, someone else will know sensitive details about us, which gives them many opportunities for malpractices.
The coronavirus contact tracing app (called CovidSafe) from Australia will store data on servers for 21 days – some claim that it's incredibly long. Also, Australian authorities use Amazon Web Services (AWS) – storage space based on cloud technology provided by one of the biggest private companies in the world. The reason for that is that they need infrastructure for encrypting and keeping the data, which would take months to build internally. Since they already cooperated with Amazon on other projects, they decided to trust the brand once more.
Representatives responsible for the contact tracing app project ensure citizens that only public health authorities and app maintenance crew have access to data stored by it. The Australian parliament is going to vote on a particular kind of legislation that will prevent other institutions from getting information from the app later this month. Speculations say that thanks to this law, the police and courts won't be able to receive data, even with a warrant – but it's not official, yet.
Personal information stored by the private company
One of the biggest concerns is Amazon as an intermediary in data storage services. The contact tracing app will keep all the information for 21 days, but the government will do that until the end of the coronavirus pandemic. As we can read in The Guardian:
"The company has the highest data security certification for its Sydney data centre. The 2017 postal survey was supported by AWS, and the 2021 Census will be hosted by AWS."

– but that doesn't mean people are not worried that their personal data will be sold or even shared for free with this corporation.
"The company has the highest data security certification for its Sydney data centre. The 2017 postal survey was supported by AWS, and the 2021 Census will be hosted by AWS."

– but that doesn't mean people are not worried that their personal data will be sold or even shared for free with this corporation.
The legislation regulations are also solving this matter – the law will criminalize the process of sending data outside the country. Even the US, which is the motherland of Amazon, won't be allowed to access it.
The Isle of Wight case
The contact tracing app in the UK works similarly to the Australian one, although it has a slightly different storage policy. Instead of using technology developed by Google and Apple that is keeping the data only on people's individual devices, they will keep them on the governmental servers. Privacy advocates criticize this centralized approach – they claim that storing personal information of the citizens in a decentralized way would fulfill security standards to prevent spying on people. The authorities argue that this way, they can be prepared better for preventing another coronavirus outbreak and they will be able to examine patterns on Covid-19 infections.

The name of the coronavirus contact tracing app in the United Kingdom is NHSX and it was developed by National Health Service. The Isle of Wight will be the first location to test this public health method to prevent people from the epidemic. As we mentioned, the UK government decided not to connect with API from Apple and Google. This can be an issue as well because without using the most popular mobile app environments, the effectiveness of the product will be much lower, which will definitely be noticed by the users. The suggestions claimed that a centralized storage system would prevent the leakage of medical information that could be used by third parties in the future to conduct research.
This debate has its ups and downs, where both sides have arguments to support their decisions and accusations. That's why this topic is so uncertain and worrying.
Should app users worry?
Tracing the users that might be affected by the virus efficiently and securely can be difficult. Many countries are working on their own apps, but all the concerns are vivid and essential. The fact that authorities say that they will do all it takes to reassure the safety of our personal information doesn't mean any misconduct won't happen.
Being cautious and acting according to lockdown measures is now very important, so if your country still doesn't offer contact tracers – that doesn't mean you are prone to infection. On the other hand, if they do, remember that it's not mandatory and analyze all the pros and cons. If you are not leaving your home and are not meeting anyone except your co-residents, maybe installing a smartphone app that will keep your personal details is not necessary. Although we have to remember that other mobile applications do that, too. We live in a modern world where many companies and organizations have access to our name, address, bank transactions, or preferences. In this battle with a virus, it is essential to protect it but also to protect our health.
Our advice would be to read every official statement from the government and be aware of the potential app's security details. If the app is not mandatory (and that always should be the case) – you decide if you need it. Probably, if you can't work remotely and you have contact with many people every day (health workers, etc.), it could be additional protection for you and others you come in contact with.
We hope you all stay safe in times of the virus pandemic!

---
---