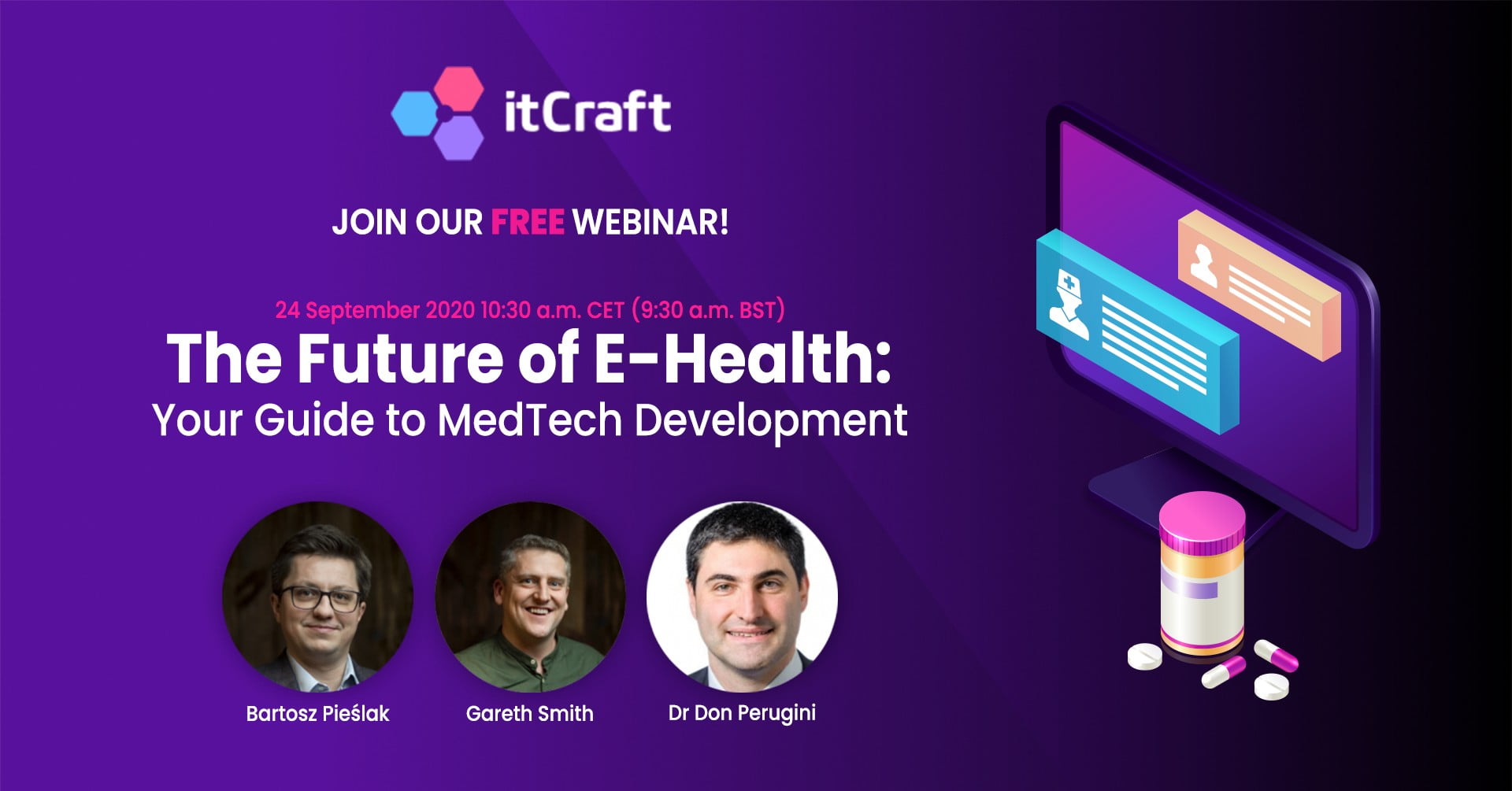 Webinar: The future of e-health – your guide to Medtech development & telemedicine ebook announcement
Telemedicine became an instant hit when the COVID-19 pandemic started to spread around the world. As an IT company that implemented various e-health systems, we wanted to give you an opportunity to learn more about that subject from experts and practitioners.
On September 24, 10:30 AM CET (9:30 AM BST), we will be hosting a webinar about telemedicine and everything needed to run such business and develop software products for it.
---
Join Bartosz Pieślak, a telemed specialist and co-founder of itCraft, and Dr. Don Perugini, an AI expert and entrepreneur. They will talk about business models, system types, HIPAA compliance and digital healthcare trends that can influence our lives in the future.
---
We are also preparing a telemedicine ebook for all of you that want to invest in such solutions or are interested in this type of business. It will be an ultimate guide written by several experts in healthcare, technology and innovation.
What will you find in this ebook? We will discuss the most popular business models and system types in telemedicine. One of the chapters will be dedicated to determining if custom products are always better than out-of-the-box platforms or components. You will learn about HIPAA compliance and other types of regulations that are essential to any healthcare business. There will also be a chance to find out what our specialists think about the future of telemed.
Bartosz Pieślak – itCraft's co-founder and our expert in e-health, asked companies from this sector like MindLeap, Home Doctor, Medicover, Sidly and Life Whisperer to share their expertise and opinions. You will find them all in the ebook. Our goal was to give you as much information as possible – and since we've completed many big telemedicine software development projects, we feel like you will appreciate our knowledge.
If you want to read case studies of our telemed projects, check them out here:
HomeDoctor case study – a complete Uber-style system with separate apps for doctors and patients.
SupraCare case study – a system to manage individual patient plans, organise work processes, and make data-driven decisions to increase efficiency and quality of care.
Egis case study – a React Native medication adherence app which helps cancer patients manage their medication intake by adding new medication and setting reminders.
[email protected] case study – a complete TeleMed platform with web apps for doctors and patients to manage accounts and native apps for patients to schedule & manage appointments, and make payments.
Simple case study – a could-based management system to digitally comply with the complex food safety standards in medical facilities, and collates all data for regulated reporting.
Stay tuned, as we will announce the ebook soon!