Google AppSheet – what is it and how to use it?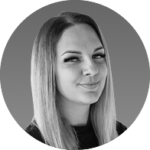 Building applications without a need to learn coding opens a lot of new possibilities. Imagine that you can create a simple mobile app that is suitable for your business needs and you don't need to hire a single developer. That's what Google AppSheet platform is all about. No-code app-building might be the future trend that will revolutionize the world of digital products and businesses.
Table of contents
Google AppSheet – a short introduction
Google didn't make AppSheet. It was bought by it at the beginning of 2020 to become a part of Google Cloud. Before that, for eight years, it was offering services for easy app development without any knowledge of programming languages or frameworks. The CEO and Co-Founder of the company, Praveen Seshadri, claims that thanks to becoming a part of Google Cloud, his company will be able to expand in a way that wouldn't be possible without this support.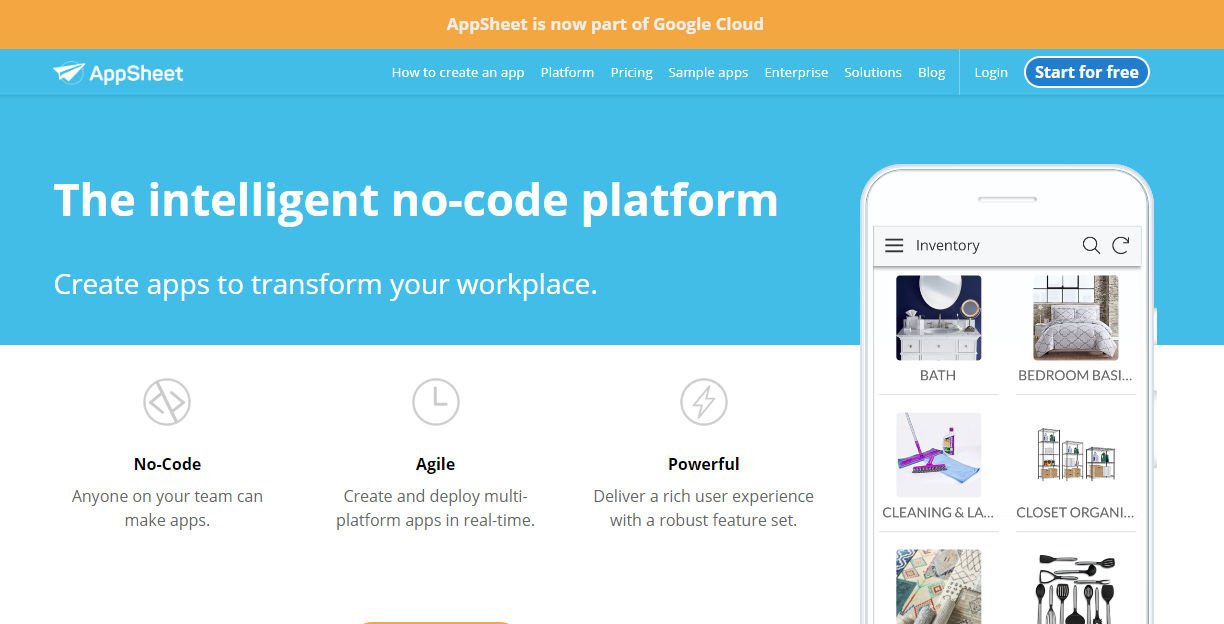 The main goal of AppSheet was to create an environment that will allow everyone to build mobile apps quickly. This way, everyone would be able to afford to have their own apps – because hiring or outsourcing developers can be costly. Also, it can consume a lot of time and resources. The tool is integrated with many services, and the main one from the top search engine is Google Cloud. Others, like Google Sheets or Google Forms and Office 365 or Salesforce, are also available.
Investment in AppSheets is a part of Google's philosophy, where the brand wants to be a part of modern solutions that allow the users to quickly build their own products with no-code development, API management, workflow automation and more.
What does Google AppSheet offer?
As a no-code development service, AppSheet can offer plenty of functionalities and conveniences to make the process of app creation seamless and easy to learn. Here are some advantages you can expect:

Multi-platform app development and deployment in a short time
Rich user experience
Robust features
Collecting information from any data sources
Application integration to provide even more functionalities
Machine learning capabilities
Process automation
Possibility to work in teams
Similarly to mobile apps developed with code, Google AppSheet offers functions like capturing pictures, sending notifications, logging locations, sending emails and scanning barcodes. This way, you can create a genuinely usable app. Also, the apps created with this platform can work offline.

Google AppSheet also shares a database of sample apps that everyone can use and customize to their own needs. You can browse them using industries, purposes and features – to find a perfect match.
How to use Google AppSheet?
Let's go through the process of app building with Google AppSheets. We will discuss every step along the way.
Preparing data
To do that, we need a spreadsheet filled with data we want to use. AppSheets will read the data from tools like Google Sheets and Forms, Excel, SpreadSheets and more.
How to prepare your data?
Building an app with Google Sheets, Google Forms, or Excel (or any other spreadsheet file, to be fair) is quite simple. The upper row should contain the names for every column we are determining, so the platform can understand and process the data. So the first column in your Google Sheets can be called "name", the next one "price" and the other one "image" if you want to display pictures in your app.
This way, you can create an inventory app, for example. The name will consist of all the food products you need in your pantry. The price will show you how much money you need to get your supplies. The picture will give a visual representation that provides the app with a good feeling when using it. Of course, you can add other sorts of data to your Google Sheets to gain other features you need the application to provide.
Connecting data to AppSheet
Log in to your AppSheet account and upload the sheet file you've created before. You don't have to worry about your data, as even if you delete your app after some time, it will remain without changes.
Fixing the way AppSheets uses and presents data
The app will generate automatically, based on your Google Sheets or any other sheet file. Now you can see if the data capture is correct or if there's a need for improvement. Using the built-in editor, you can change properties, make smaller data sets, create new ways to display information (calendars, forms, galleries, charts, etc.) and build customizable views to give your app a visual touch you desire.
Security settings
You can define how the users will be able to access your app. For example, you can require that a sign-in will be able only with third-party authentication, for example, from Google Drive or Office 365.
Final steps
When the app is ready, you can test it on real users by sending them email invitations with instructions on how to install the app. They will get all the information to their inboxes.
And you can finally deploy your app! You click one button that activates all the features and now it is ready to use. Of course, after that, you can still manage and edit the app to update it according to users' feedback.
Google AppSheet alternatives
AppSheet is not the only platform that offers app development without coding skills. One of them is Betty Blocks.
It's a fully automated tool that allows its users to build complex apps and shorten time-to-market. The process of app creation is slightly different than in Google AppSheet. While the latter uses spreadsheet files like Google Sheets and Excel to provide data for the mobile app, here we can use blocks that are provided by the platform.
This way, the data capture process is a bit different. Because in AppSheets, we provide the data beforehand and in this case, we can build the blocks and fill them in with data later. Features we made can impact user experience and the overall outcome, so pick a platform according to your needs.
Other alternatives include Airtable, Ninox, Zoho Creator and many more.
Will AppSheet replace software developers?
Each platform that allows app building without code gives companies a chance to have their own mobile product within a short time and without a need to invest a lot of money. But building advanced, innovative features will only be possible with complex programming languages and frameworks one needs to learn to code comprehensive software.
Trying a platform like AppSheet can be a fun journey and if you can't afford to hire a professional mobile app development company at the moment, it can help you hit the market earlier. Simple business applications with not so many features are going to complement your process and optimize it anyway.
When you feel ready to go further – don't forget to contact us and let us know how do you want to expand. We always create robust software solutions to be sure you can achieve your business goals easily.
Read more
Google Glide – Create mobile app in spreadsheets without coding
Ebooks for junior iOS and Android developers
---
---