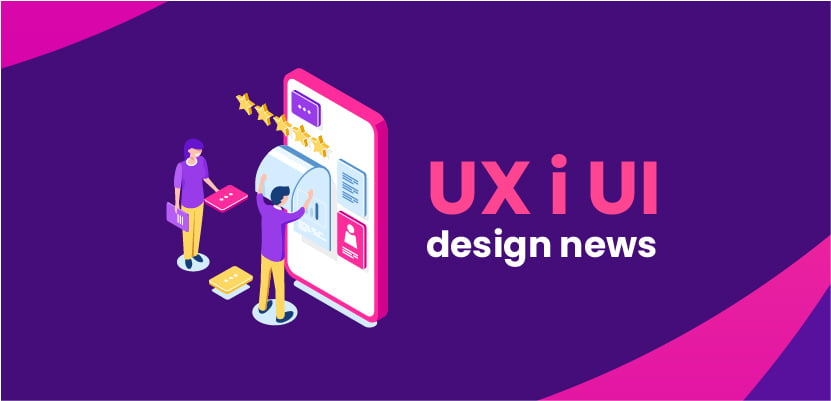 UX and UI design are essential parts of the app development process. As a software house with years of experience, we know that – so we offer the full package to our clients. It basically means that if you come to us with your project, we will not only build a software product for you but also manage all the stages, create a beautiful and functional visual side of it and test it throughout the way.
Table of contents
On our blog, we try to raise awareness about proper UX & UI. We want to underline that it is as crucial as other development stages. Together with code, the design is the main element responsible for interactions between the software and the user. Not to mention branding with graphic elements, fonts and colors that give the customer a one of a kind feeling when using an app.
We upload tons of content dedicated to all aspects of our work. There are business articles, programming tutorials and knowledgeable guides that explain specific technologies. We discuss the pros and cons of different solutions and try to determine when they are applicable. Check out our most popular articles about User Interface and User Experience design to learn more about this particular subject.

UI/UX articles
Let's do an overview of our content dedicated to design. You will find everything you might need there. We describe our process, explain the most confusing terms and showcase best practices when it comes to UX and UI. These blog posts were written by our talented designers that wanted to share their knowledge and experience to educate our clients and supporters. Each application or website we make for them is unique, thanks to our team's creativity and open mind.
UX/UI Design – the make or break of mobile apps – This is our primary guide to UX and UI design. Use it to navigate yourself through the world of visual prototypes, usability rules and user experience in general. We explain what are the duties of UX designers and UI designers, too. Aneta, one of our teammates, describes how we test ideas and present them to our clients. It's a blog post to read if you want to learn about the design process we conduct at itCraft.
Starting UX design – User Flow and Interactive Prototypes – We write articles that are quite often focused on concrete tools, methods and principles. This piece underlines how important it is to put the user first. Every software product should improve your customers' lives and that's also our main goal when we create apps or websites. Here we explain what is a user flow and describe the software our designers use – like Sketch, Adobe XD and InVision.
Why Inspiration Matters – Moodboard in UX/UI mobile app design – Everything can inspire a designer to create something beautiful and unique. Images, color schemes, photographs – they all provide a certain vibe and a lot of data. Moodborad is a collection of visuals that set out the direction for future design. We present examples and provide sources to check for suitable pictures and materials.
Creating the User Journey – map of screens as core UX design practice – Another article dedicated to an activity crucial for productive UX design. It's full of images that explain how user journeys work and how to build them according to state of the art. Predicting how people will use the product will get you far, so don't miss this blog post.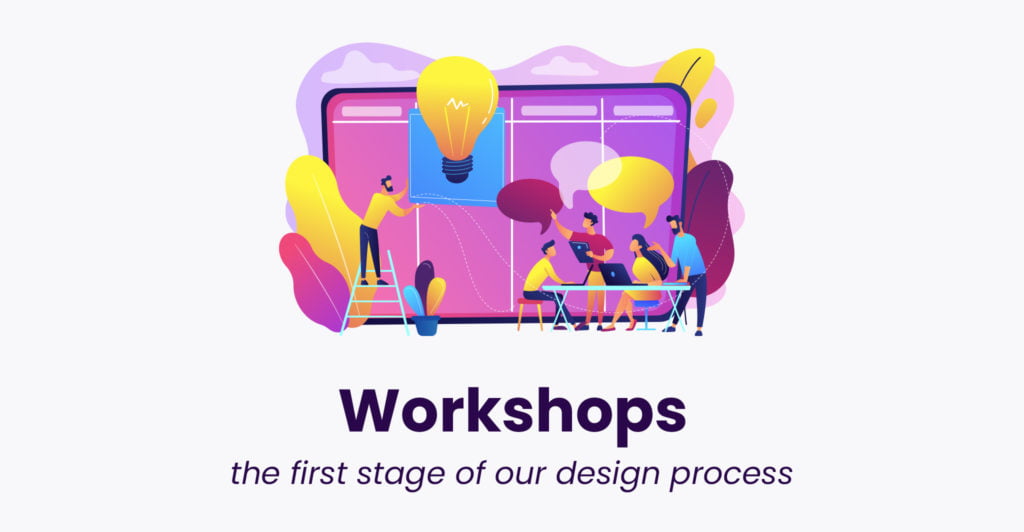 Workshops – the first stage of our design process
It's the first stage of our process in general. We dedicated a lot of space on our blog to UX/UI workshops. Basically, it's a meeting we organize with a client before we start the project. We get all the useful details about the product and all the data we will require to meet the business goals and expectations during those two days. Our designers sketch initial prototypes and create first proposals based on the product owner's suggestions. It's a busy time when we can throw ideas around and verify them according to your expertise and our experience.
To understand better how workshops work, you should check out the articles below.
Why are UX Design workshops the right way to start your project? – This workshops-related blog post will show you step by step what is happening during the meeting and after. It is focused on the results and shows what to do with them so both sides can take advantage and be more aware of the process. You will find out how user stories are written, how the project's scope is determined, and when to talk about suggestions or changes.
User story – a useful tool in agile development – A broader take on user stories. We create them during workshops and use them for user experience design, user interfaces and website or app development. This is a complete guide that explains why user stories are important, how to make them and what to do with them.
Our design projects
You probably wonder what we did so far in terms of UI and UX design. You can visit a couple of places to see what our designers did for itCraft's clients.
First of all, visit our Portfolio tab. Find out what we did for big enterprises and small startups to help them thrive in their industries. Examples include various products like telemedicine, retail, or even dating apps. For ten years on the market, we had a chance to work with multiple clients from around the world. Check out our best designs in our portfolio.
We also have a profile on Dribbble, where our designers publish their work in the form of detailed but straightforward presentations. This page will show you how the process of UI and UX design looks like at itCraft. Example screens showcase features and branding elements we make for every client we collaborate with.
Where to look for design news?
Being up to date with current news and trends is a part of our job – no matter if it's development, quality assurance or design. Our team is constantly learning and improving to deliver even better results. Here are our favorite sources:
Medium is a place to be for people interested in user experience design. It's full of content written by seasoned designers that express their thoughts and feelings about particular topics. They share new solutions for common problems, showcase their work and comment on industry news.
There are several communities on Medium dedicated to design. We recommend two: UX Planet and UX Articles and News. They are regularly updated and full of user experience-related content. We are confident you will find tons of knowledge out there.
If you wonder what design top trends in 2020 are, make sure to check this platform. It describes the essential concepts in the smallest detail, with rich examples and tons of data about the state of the UX and UI design industry. Also, check out Mockplus Blog for free resources that help designers make products faster and better.
A couple of trends to be aware of
First of all, design experts gather in small communities to build their online presence. If you are a UX and UI creator and want to discuss your work with similar minds – look for groups that specialize in your niche.
In the past, the design was usually done by just one person. It's also changing – right now, teams of more than one designer with various competencies are appreciated by product owners. Even the most talented user experience wizards can't do everything. Collaborating with a team means you can get a complete solution with many components.
Designers should also make use of their work to support transparency and critical thinking. UI and UX should include elements that will detect and mark false information and misleading data. In the era of fake news and deepfakes, we need to pay even more attention to authenticity and awareness.
User experience design is a particularly interesting subject. It is evolving quite fast and becomes an interdisciplinary field where creators also use other skills like copywriting, data analysis, programming, social marketing or SEO. The definition of a designer is not rigid anymore. In a fast-paced world, we need universal competencies to help us understand our clients better and make more robust products.
The importance of well-composed design systems grows significantly. A design team that uses it gets better productivity and guidance. The outcome? Well-thought projects with structure and purpose.
How we do it at itCraft
If you want to be our client, you should know our workflow and the methodologies we use. There's a chance you've already sent your first email with the project description. We will discuss the details soon – but first, check out the articles above and learn how it's done at itCraft.
You will become an active member of our team. That's because we use Agile as our project management methodology. It's one of the most efficient ways to work and we appreciate it because it emphasizes organization and communication. User experience and user interface design have their own place in the process and Agile is responsible for seamless collaboration between teams and team members. The Agile framework we use is Scrum – learn how to use it here.
Of course, as a product owner, you might have this one thing in mind – and that is the question about price. We explore this topic with attention in several articles on our blog. The main one being: How Much Does it Cost to Make An App in 2020?
The cost of each app, website, and any other product is always individual – based on expectations, business goals, the project's size, and many other factors. In the article above and our Pricing tab, you will find a more in-depth analysis of all important things that can influence the final cost of your software. All these assumptions are based on our experience.
One of our advantages is innovation. We offer all the services you might need – no matter if your company is a freshly born startup or an established enterprise. Every email message with an idea for a product is a challenge for us. We create the user experience for simple apps, data analysis platforms, machine learning software and websites. Design is significant for all of them because it provides user-friendly navigation and a simple system that allows you to control everything. All the details matter – we get that. That's why our design team is always prepared to create user interfaces and user experience for our clients according to modern principles and business needs.
In the end, everything is about the user. That's why we also recommend this article: 10 awesome tips for developing user friendly apps. Thanks to it, you will learn why usability and user experience are so crucial in every software project. Each one of these tips will help you understand how to improve an app in terms of design and get a result that will provide real value to your customers.
As you can see, user experience and user interface design are essential for web and mobile development. We genuinely care about the quality of products we build – that's why we also educate our clients with blog content, webinars, ebooks and other things we share.
Follow us on social media and check out our website regularly. You will get a lot of useful information about software development, UX and UI design, quality assurance and more. Email us if something is not clear, you need help if your current software, or you have an idea for an app. We are open to new projects because our mission is to support companies on their way to success. Our team full of specialists and enthusiasts will collaborate with you on every stage so you can contribute when you want to and be sure that everything is going according to the plan.
We hope that all the materials and resources about UX and UI will be helpful in your future journey to create an app. If you are a designer, they will also support your work and keep you always updated with current trends.
---