8 min read
Outsourcing software development – The art of not going too far at offshoring & body leasing in IT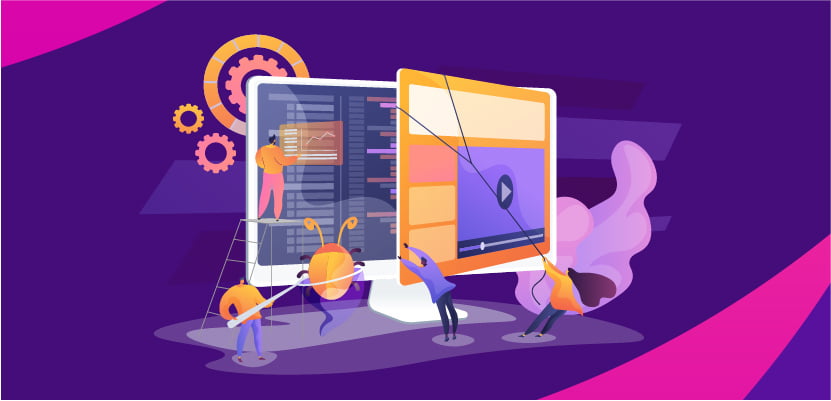 You can build software and mobile apps anywhere in the world. IT services are not cheap and looking for offshore alternatives is natural for every business owner. If you got the money, there's someone ready to take it.
Table of contents
Possibilities are endless. You can try going transcontinental, a neighboring country or do a really deep research and find something that fits the bill perfectly. You can go for cheap, or find best value for money. You may think cheapest is best but this has been the undoing of many before you.
Let's see if I can help a little with understanding software development outsourcing process.
Choosing the best outsourcing development company
Don't judge a book by the cover
When you want to outsource manufacturing of something physical, it's easy these days. All you need is to find the cheapest manufacturer offering quality and capacity you require. With IT trying to find this ''Golden Middle'' proves to be much harder. You will find both cheap and expensive developers claiming best quality and best value for money.
The art of outsourcing software solutions revolves not (entirely) around prices, it's more about quality and compatibility. It's important to know how much your offshore developed project will cost, but comparing quotes for price will just not do. What you need is a proper bang for your buck approach.
The type of outsourcing is another matter. Depending on what you need, there are different ways of hiring external help. You can outsource a whole, complete project team, get just one developer from a company, hire a freelancer for a certain task or go for staff augmentation to "top up" your team with the missing skill.
Then there's the geographical approach. You can go offshore (another continent/far away), nearshore (a bordering or nearby country) or onshore/domestic (outsourcing locally).
Not all that glitters is gold
To start your search for a developer from another country, first it's good to decide how far you're willing to go, and geography is not exactly the issue here. It's about understanding each other's needs. Ordering a vodka ad campaign from an advertiser in Saudi Arabia does sound a bit counterintuitive.
If you're based in the UK, US or Australia, you can turn to China, India or Russia for development , but you will soon discover all the complexities when dealing with places culturally disconnected from the Western world. There are also laws, taxes to consider which may complicate the whole process and can make a real mess out of a promising venture. Europe does seem more approachable here, especially when it comes to culture, language and financial transparency.
If they can't talk the talk…
Think communication first. You will be engaged in talks with your offshore software developer every step of the way. From initial negotiations, through the process of development to after service. You don't want a company that outsources interpreters and sub contracts all their language work. You can use the language barrier as an initial filter in your search. If you can't make sense out of emails from a company, it means they are facing the same problem reading yours. Advice here is simple – make sure they speak English, first and foremost.
Be understanding. As long as you're being understood.
Don't expect full proficiency, it's more about them being able to understand what you're telling them and communicate back to you comfortably. Most European developers today – the smart ones anyway – are adopting English as official outsourcing company language to ensure that not just their sales people and project managers, but whole teams are qualified to deal with international customers. This allows them not only to outsource software development services, but also body leasing of professionals.
How to check an outsourcing software company
The quality of developers work and their ability to deliver are of paramount importance. Your developer must be able to show you tangible (virtually) effects of their previous work. It's not about what they say they can do. Rather, it's about what they had actually done and how good it was. If a company's portfolio is rather unimpressive, so will your product be.
Check the company's portfolio
Look for developers with strong portfolios and 100+ completed projects. Check their reviews – always a good source of information, although if they're published on the developers own website, don't expect much in the negative section. Make sure the company has international experience and is visible and active on the market. Their website is a good indication. A well presented, often updated and full of useful info (yes I know, self praise..) website will tell you about their activity, expertise, offer and experience. Easiest place to find their contact info as well :).
Ask for an evaluation of the software outsourcing services
Your business partners and friends are another source of information worth checking out. Ask them if they outsource their IT services, where to and what they think about it. Recommendation is always valuable, especially from people you trust.
Offshore development companies rankings, developers comparisons, outsourcing reviews
When choosing a country to consider software outsourcing to, websites like hackerrank.com offer a very good insight into the world ranking of software development companies. Currently China, Russia and Poland lead the pack of the first 50, closely trailed by Switzerland. Being Polish myself I can't really help a bit of a bias here, but just look at us all the way at the podium. Pity we don't kick the ball as well as we code. Hackerrank does give a comprehensive view and includes various factors for their rankings.
Another place to look is clutch.co where you will find development companies along with all kinds of useful B2B info. Here, you can easily categorise your search and look around for what you need. Most Google searches of the type ''mobile app developer Poland'' (or Russia, India or what have you) will point you to clutch.co anyway. The website bases their ranking on confirmed client reviews, size of completed projects and presence on the market. Developers must have actual, proven value to make it to the top 10 here, so when you're looking around for options this one is definitely worth visiting.
Rent a coder – body leasing IT
Outsourcing is not limited to whole projects. Most well established developers offer body leasing. They rent out their professionals to clients. As certain IT skills are highly sought after, developers are happy to literally lend a hand if you need one.
Staff Augmentation
So many different names. So many different ways to look for new team members for a limited period of time. So there it comes – Staff Augmentation that allows to fill the skill gaps in your team for a particular project.
Question of seniority
If you're thinking of leasing a programmer, make sure you're getting what you really need. The difference between a junior and a senior developer can be quite significant, and you'd be surprised how many ''senior'' cvs you will get in offers. Honesty is sometimes hard to come by – many developers attempt to ''sell'' underqualified coders as senior developers with hope you won't notice the difference.
How do you recognize a senior developer
To give some indication – a senior developer is someone with (preferably) 6+ years of commercial experience and a broad portfolio of projects she was involved in. Less than that, you're looking at junior or medium level specialist. Make sure you always get what you pay for, especially when it comes to offshore software development. Check their resumes and set up an interview to confirm their qualifications and technical knowledge.
Outsourcing software development – Summary
2019 has seen a high demand for senior developers, which translated into shortages in supply. 2020 is looking pretty much the same, which makes development companies try to slip in their less experienced coders as seniors. It's good to exercise caution when body leasing, as it might take a junior developer significantly longer to achieve a goal meant for an experienced programmer. You will be paying an hourly rate for a leased coder, so make sure you get what you pay for.
Apart from making sure you get what you pay for, the most important thing is to pick the right type of outsourcing for your needs. Make sure you know exactly what you need before you start looking, and then engage only with companies/people who fit the bill.
---
Find your developer now!
We make bespoke specialists.
---
---