Ways to outsource app development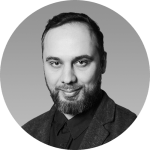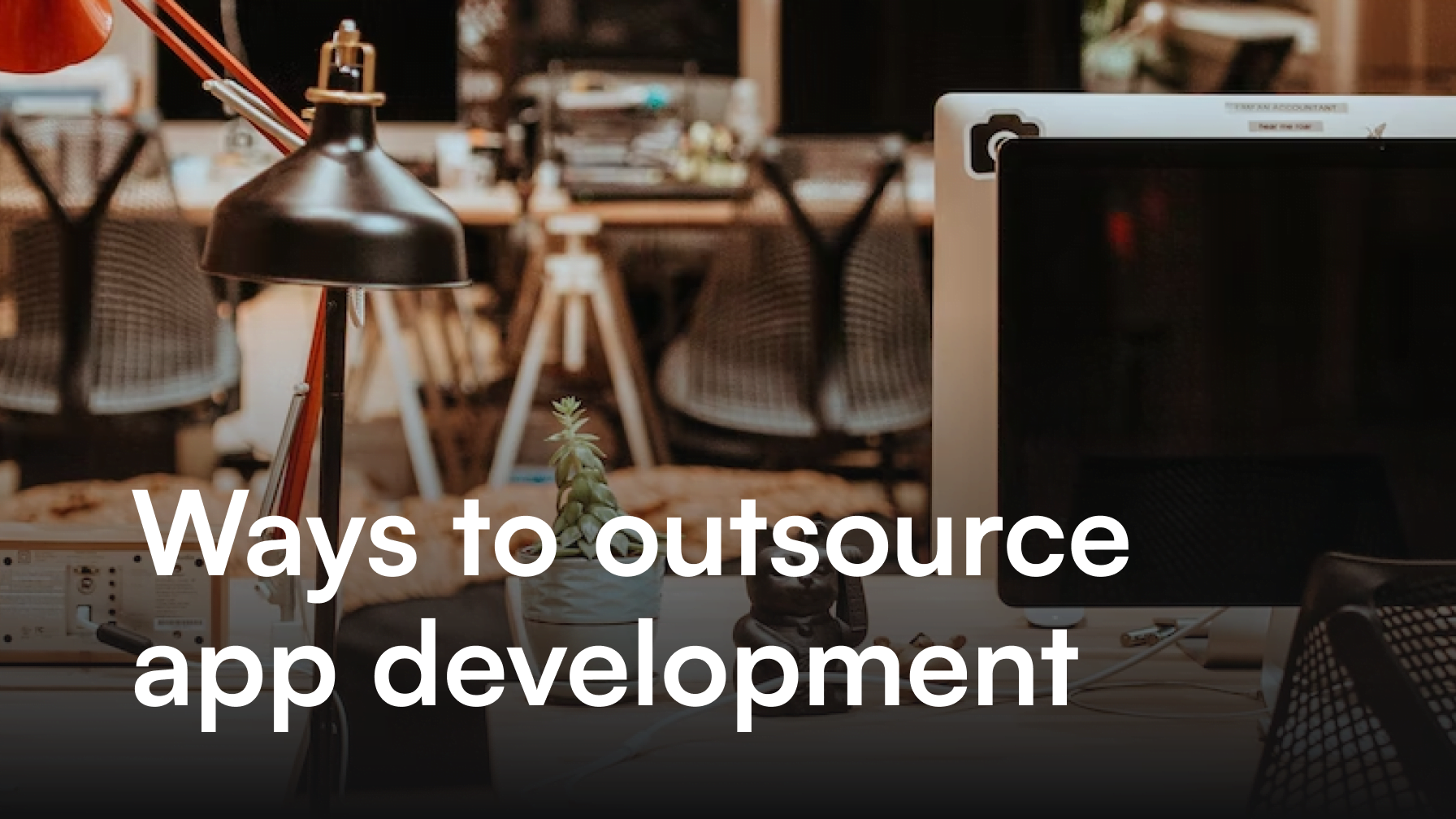 You have the idea, and it's time to turn it into an impactful app. What should you do next? We understand – the best way would be to shorten the time to the market, so the app can bring down the house. Another thing is that you would like to reduce the cost without reducing the quality of the application. That's possible. You don't have to spend time on recruiting professionals. Even enterprise level companies with massive budgets use a different option. Outsourcing app development can help you make your idea come true for less money. What are the ways to outsource app development? Read on.
Why outsource app development?
We live in fast-paced digital times, so there are plenty of opportunities to enjoy the seamless development process and avoid the challenges related to recruiting a team of developers. Here's a short list of best practices in terms of outsourcing app development. Thanks to these, you can save your most valuable resources – time and money. And time here is really vital. The 21st century requires fast adaptation to changes. You know, the only constant thing is change, so you have to really act quick to stay on top. That's why so many companies around the world decide to outsource some key processes. App development is one of them.
According to statista.com, the revenue in the Segment IT Outsourcing is about to reach around 395 000 000 000 USD. For comparison – the global market for outsourcing was estimated around 85 600 000 000 USD in 2018 (with a stable future growth). You see the difference? Why is that happening? Well, there are many reasons why companies use the outsourcing app development option. There are two main reasons – reducing cost and increasing overall operational efficiency.
Outsourcing app development reduces costs
There are a few things you should know about reducing costs in terms of outsourcing app development. Let's assume you decided to recruit a team of pros. You need to post the job offers, take your time to find the right candidates, then again take your time to make the team work efficiently. And there may be many obstacles along the way. Remember that time is crucial? With outsourcing app development, you skip that part. There's no need to waste time for recruitment process. There's also no need to waste time on creating processes, onboarding, and other necessary things. You just have a team of experts who are ready to start working. So, consider it as an investment, not a cost. According to Deloitte global outsourcing survey (2020), there are four key outsourcing trends:
Cost reduction
Cloud and robotic process automation
Supplier management is under powered
Agility is crucial
Outsourcing can elevate the way of doing business
Digital solutions are a normal thing now. By using them, companies can be more flexible and can leverage the newest technologies. This also speeds up their way to the market. By choosing the right provider (namely, us), your business can achieve the desired outcomes. What are the main reasons of considering outsourcing app development for you?
Here's a list:
Cost-cutting tool
Enable focus of core business
Solve capacity issues
Enhance service quality
Critical to business needs
Access to intellectual capital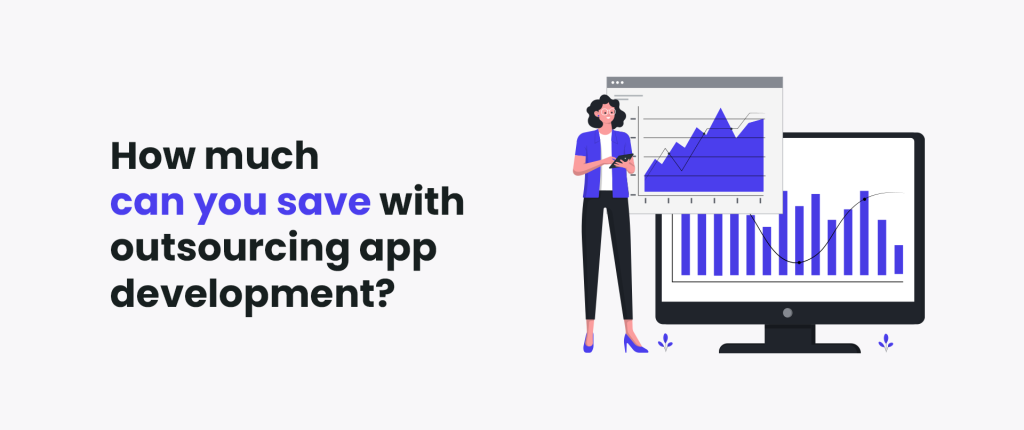 Outsourcing app development and cost efficiency
Creating your own team is always more expensive than hiring a pro or even a team of pros. Apart from the onboarding process and – of course – finding the right people, you don't need to take care of creating a new office space. How much can you save with outsourcing app development? It depends. For example, depending on your location and the destination you choose to outsource your app development – the cost-saving range is around 20-70%. That makes a difference, doesn't it? By the way – want to know how much does it cost to make an app in 2022? See here.
Save your business focus
Creating a team is one thing, but there's more. Namely, project management. Instead of delegating the work to an outsourced app development team, your own team has to spend time on making sure that things are done. When you outsource app development team, all you need to do is to settle the communication – in the way it suits you – and provide feedback regularly. What makes us stand out in the crowd is (except amazing work, of course) is that we are 100% transparent and highly communicative. You always know what's going on in your project. No stress – it's that simple. And you have more time to focus on running your business. A win-win situation.
Top app development experts at hand
Changes happen (all the time). For example, you need to add some features to your digital products to react to market needs. Or your project requires involving a rare talent. Sounds bad? More time needed to find the best solution or best person to fit into team? No. The best part is that you don't have to worry about these issues. We can say from our own perspective – our clients can take the stress off their shoulders. We take care of this stuff. You always get the team of experts in their fields to make your app shine like a diamond. Cool, isn't it?
It's skills that matter
Developing an app requires a broad set of skills (and people). Yes, there are the developers who do their magic, but app development is more complex. Project management, quality assurance, business analysis, you know – that kind of things. We have multi-level team structure and everyone knows what and when to do to get things done. Cooperation with such team (like ourselves) will speed up the development process significantly. And the results are always outstanding.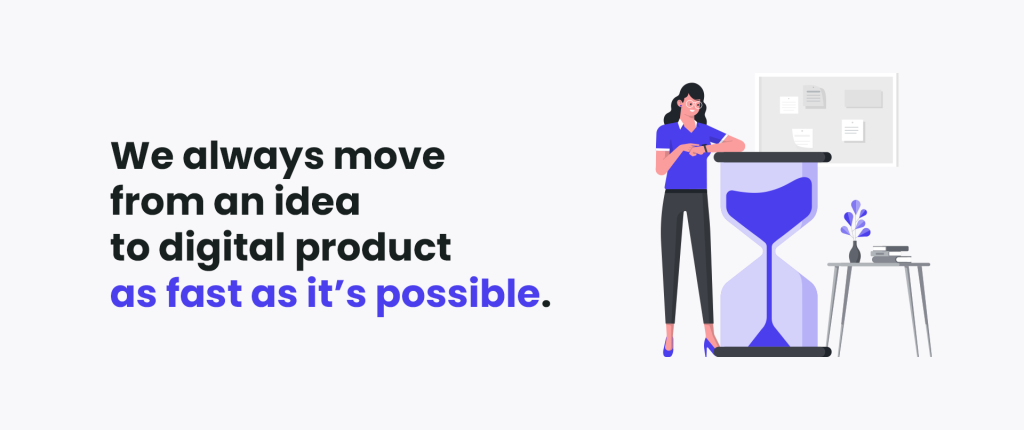 Time is crucial – we know that
One day can have an impact on the success of your new digital product. So, it is vital to stick to previously set deadlines and launch the product as soon as possible. When you establish a cooperation with professional vendor (that's us), you will know what and when it will happen. We carefully estimate project and timeline, and then we use this information to allocate the required number of resources. We have over a decade of experience in the market, so we always move from an idea to digital product as fast as it's possible.
Flexibility and scalability
In order to save time and move on with the next stages of a project within set deadlines, your business partner needs to be flexible. We know (and use) flexible software development methodologies. You know, Scrum-and-Agile is our second name. We divide the work into smaller parts (sprints). And each sprint has a result – namely, a fully working new feature or part of a digital solution. So, making shifts and adjusting the processes according to the business requirements is absolutely natural for us. This applies to the scale as well. In case your new product requires expanding the team, that's totally fine. We take care of that. No matter how significant changes are to be implemented, this factor won't interfere much with the project timeline (or it won't interfere at all).
Reduce the risk with outsourcing app development
What if you had your own team, and then the leading software developer suddenly left your company? That could happen. You would have to find an expert instantly. Even if you would do it rather fast, it would affect the project timeline. With outsourcing app development to the right business partner (itCraft, that's obvious), you don't have that risk. It also applies to other situations, like project processes and unexpected issues with features implementation. We have top project managers here, they will estimate the risks and take care of mitigating them.
Security is a priority for us
Last, but not least, here's a massive advantage that comes with outsourcing app development. Security is a must. We have protocols that ensure that your new digital product will work great within local legislation and data protection rules. You can be sure that all the work, including your app idea, will be safe. Also, all your user data will be protected. We know that business is based on trust, and security is one of the pillars of our business. We have the ISO certifications, so this is not just a talk, we take it very seriously.
We have the numbers (and reviews) to prove that we are the partner you should choose. As outlined in all information above, app development is our natural environment, and we really know how to do things right. See our profile on Clutch! So, got a project?
---
---