UX writing – why is it important?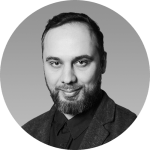 Words do have a power. Even though many people do not reflect on the word selection or the chosen tone of voice, they do process these in a certain way. Words have an influence on behavior, and on choices. That's why marketing is so useful. But what about the communication in apps? Do the particular words make a difference? Yes, they have a significant impact on users. Keep reading to know more about UX writing and its importance.
UX writing – what is it?
Don't worry, it's not an article about sophisticated language function theories. We'll leave it to linguists and other enthusiasts. What we are going to focus on is how UX writing can improve your new digital product with communication. So, what is UX writing exactly? It's about creating a perfect content that users will see whenever they interact with your new game-changer.
UX writing is a part of communication strategy. This is not just 'writing'. Like, when you want to craft an outstanding app, you have to know what your target group is and what are the needs of your potential users. Well, you have to know these things as well when you want to have a perfect content inside your new app.
UX writing – microcopy and macrocopy
You probably guessed that one right. Microcopy and macrocopy differ in terms of length of the text. But there's more to that. Microcopy has to be clear and informative. This part of content guides the users through your application. So, one might think that it's super-easy to create microcopy, as it's about short forms. Well, no. The truth is that it's the hard part.
Even though the texts are short, you have to be very careful and meticulous in choosing the words. You cannot afford the situation when the users will get confused or mislead in any way. Otherwise, they can abandon your product. Macrocopy is the easier part – it involves longer and more descriptive forms of content (like this article).
Microcopy and macrocopy – briefly
What are the most common examples of microcopy and macrocopy? You know, we always provide clear and-easy-to-get information. An expert is someone who can present sophisticated topics in a simple way. So, let's make it this way, as usual. You can find the main examples in the list below.
Microcopy examples
Menu options
Buttons
Forms
Error messages
Confirmation messages
Notifications
Link texts
Hints
FAQs
Macrocopy examples
Articles
Product descriptions
Product instructions
Category descriptions
Press releases
Agreements
You see, the tiny pieces of content have a massive impact. A clear and engaging message does the trick if it's crafted properly.
The importance of UX writing
You now know what are the differences between microcopy and macrocopy. But why does UX writing really matter? Yes, it's a part of strategy and has an impact on the users. But why exactly? Here are the main reasons:
UX writing distinguishes your brand
Whether it's for a mobile app, web app, or anything else, the copy can make your brand stand out in the crowd. One of the best examples comes from the Rolls-Royce brand – and the copy was made by one of the legends – David Ogilvy himself. Here's the masterpiece: "At 60 miles an hour, the loudest noise in the new Rolls-Royce comes from the electric clock". One sentence just rocks and hits the target audience. That's why UX writing is important for your brand.
UX writing creates a bond with users
You don't make apps just to make your vision of a product come to life. You make mobile apps and web apps for users. And that's the channel you communicate in with them. With smooth, clear, and engaging copy, you build a bond with your community. You have to keep in mind that your brand has to have a human face (or human touch).
UX writing makes users loyal to your brand
We bet you have some favorite apps or websites. What makes them so unique to you? Why do you return to them and interact more? Of course, the functionalities are important, but it's also because of the way they communicate with you. You know, we already told you that processing messages is something that goes beyond the conscious level. Use this factor to your advantage. Tailored-to-needs copy will keep your users by your mobile app or web app, instead of rushing towards the competitors.
UX writing leads to conversion
A perfectly crafted content funnel will guide your users towards the ultimate goal – the conversion. Let's be honest here, it's about making money. And it is, even though the 'conversion goal' could be about signing for a newsletter or visiting a landing page – at the end of the day it brings you money. Bad copy will not get your pockets filled. Perfect copy will.
UX writing is an investment
How many times you did not read the whole article or quit an app because you decided it is not with your time? How many times did you skip the headline because it seemed like a drop in the ocean of boring or useless information? Those were the bad copy examples. You don't want your new digital product to sink in that ocean, do you? So, think about UX writing as an investment. It will bring you the profit. It will bring people to your product, to your brand. Where to find the master wordsmiths? The best thing is that UX writing is a part of our Product Design process. We always put users first and it pays off.
---
---