Convergence of health providers, innovators, and investors – HLTH 2019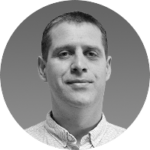 Building the future of Health
Health innovators, startups, health plans, providers all packed together at Las Vegas MGM Grand Conference Centre was an absolutely mind-boggling view. Add to it the presence of world's biggest tech and financial brands – it's clear as day that in 2019, the future (as much as the present) of health has become the world's key strategic issue.
Tech giants brought to attention
When you think of names like Google, Adobe, Intel, Facebook, Twitter, Tencent, Magic Leap,or Mastercard, health is not exactly the first connection that comes to mind. For them to all show up in one spot, presenting and discussing their own developments in health tech shows the importance of the issue, and gives a good indication of significant changes taking place in health landscape.
We all deal with health issues
Health in 2019 is no longer a single industry issue – it is a matter of great importance across the financial, tech as well as logistics business landscapes, and no effort is being spared in addressing it.
Tech companies big and small are making waves in healthcare. From the most obvious and popular – fitness and dieting, through EMR and EHR software, devices, spacial computing, virtual and augmented realities, to AI driven data analysis- the technological coverage of healthcare is nothing short of amazing. We see our childhood science-fiction coming to life at an astonishing pace.
It would be an impossible task to try to fully summarize this year's HLTH, but here are some of my takeaways that i think also occupied the focus and attention of both speakers and attendees.
1. Patient engagement – patient-centrism
Drug adherence, active engagement, trust and respect – these and a plethora of other, patient-related issues were discussed at the conference. Common conclusion was that all actors of the health industry bear the responsibility to enable their most valuable asset – their customers. Throughout the multi-level discussion on the problem it did become apparent that, although a lot is being done already and new solutions being introduced, the problem remains largely unsolved.
HLTH 2019 gave an unprecedented chance for all those battling the issue to come together and look for ways to speed up and enhance their efforts.
2. Parity and women in health
Women's voices have so far been largely missing in the healthcare innovation discussion. Same goes for the question of parity in (wo)management roles. At HLTH we heard strong, opinionated views and saw great resolve for enabling and appreciating women's involvement in healthcare at all levels.
Increasing the number of female leaders, parity in C-Suites of health care and health tech were the hottest subjects of all of the Wednesday sessions and events. Still a lot to be done, but hearing so much good from organizations successfully paving the path for the industry to achieve parity, shows that we are on the right track.
3. Effective and efficient AI data analysis
The AI's gigantic impact on all matters healthcare was, next to digital reality, most pronounced at the event. Efficacy, efficiency, results, early diagnosis, as well as financial data analysis and fraud detection – were all being addressed by exhibitors and speakers alike.
Huge advancements in genetics, cancer diagnosis and preventive care are attributed to AI's vast capabilities. As the technology matures, we see increased interest from all those striving for enhanced decision-making, revolutionizing operations and getting the most out of the vast amount of health data being fed into the digital systems.
4. Social platforms engaging in health
Facebook, Twitter and Chinese Tencent had made their presence known at the event. We heard a lot about connectivity improving patient engagement in healthcare processes, potential for sharing and learning about conditions, improving patient experience, enabling safe conversations.
Social platforms have an unlimited potential to bring healthcare closer to patients. Properly equipped to tackle issues of trust, credibility and validity of information, they can become a truly human-centric tool for connecting providers with consumers, and demystifying healthcare.
5. Digitized reality
VR and AR solutions were definitely the most visible among the exhibitors booths. Headsets dominated the startup space. We saw a variety of applications in addressing a multitude of conditions. PTSD, disorders, anxiety, depression – digital reality is making a huge difference in treating these conditions. It also finds uses in aged care, addressing loneliness, shows real results in tackling autism. Spatial computing represented by Magic Leap showed amazing opportunities in merging the digital and real world into one.
Change is already happening
Although HLTH's main theme was the future, what we saw this year at MGM Grand was a very "happening now", real-time convergence of thought, research, ideas and fully developed solutions into one, giant machine. A machine going all the way up the gearbox tackling real life challenges of the one matter closest to our hearts – our health and well-being. HLTH 2019 wasn't "just" the biggest health event. It was a real, joint effort to push for changes to happen now, and turn slow evolution into a fully-blown revolution.
---
---