Sobiesław Gabara
iOS Developer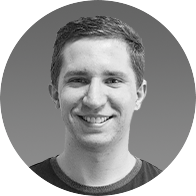 Tomasz Dzieniak
Senior Android Developer
We hire specialists who are highly skilled and experienced in all areas of web and app development. Assigning a developer for your project, we ensure adequate skill set and experience level for your software development.
Learn more about project workflow
Developers outsourcing
High – end software development requires the best programmers in class. At itCraft we keep our requirements high when hiring developers and appreciate the value of our team members.
In-house, dedicated teams
Each of the projects we take on gets its own dedicated team assigned to it. But skilled teams is not the only thing we do. To give our guys a bit of a challenge, we like to take them out of their comfort zone.
The right person for the job
We rent out our specialists on a regular basis and know how important it is for companies to get the right people for the development outsourcing. Our offer is complete with programmers from all the areas and levels of expertise in app development.
All for one policy
Hiring over 40 employees and working in-house gives us multiple advantages over hiring a freelancer. Sharing space with other programmers, testers and rest of our team gives us the chance to not only learn from each other, but also to address unusual issues as a group.
We deliver
When you hire one of our developers you can be sure
you're getting the right specialist for the job. If one of us
is working for you, we are all working for you.
Talk to us
We are happy to answer any questions you may have about software development. Call or email us directly to discuss your ideas.
You can check
our portfolio
Let our deeds speak for us. Feel free to browse through some of our projects delivered over the last 10 years.