CryptoHawk: Artificial Intelligence to predict cryptocurrency rates
CryptoHawk
Canada | FinTech
Overview
The cryptocurrency market is a relatively new creation, therefore it is not widely known and understood, which causes anxiety and fear of the new reality. In order to dispel these doubts, enable knowledge of digital currencies and encourage investment in this area, CryptoHawk was created. In this article, you will learn more about this mechanism and discover the path of its creation.
01
Client
is a company that has extensive
experience in AI, Machine Learning,
Big Data and Cryptocurrency technology.
The mission of Digimax Global is to provide solutions for various entities in order to increase wealth by revealing predictive insights across the financial world. We were excited when Digimax Global selected us to help develop the most powerful crypto price prediction indicator tool – CryptoHawk. It's worth investing in an innovative product – namely, the Cryptocurrency app.
Partnership goals
01
Creating a competitive tool supporting investors, based on Artificial Intelligence and the DigiMax's know-how.
02
Assisting in the creation of a profitable business, which at the same time will be user-friendly, profitable.
03
Achieving high-quality products, substantive at a competitive price and an appropriate time range.
04
Delegation of work to specialists in the agile development lifecycle of sustainable solutions.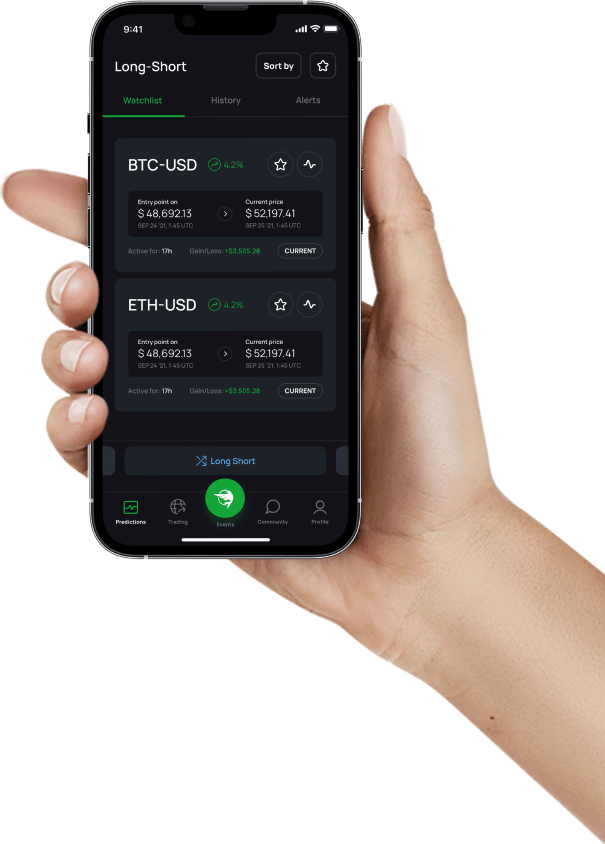 02
Project
CryptoHawk AI is an Artificial Intelligence platform that allows investors to gain a competitive advantage when trading cryptocurrencies.
CryptoHawk's proprietary AI algorithm analyzes millions of data points per hour to spot relevant patterns, make decisions and generate accurate price trend predictions. CryptoHawk allows investors to simplify their decision making, reduce risk, maneuver market volatility and improve performance.
03
Challenges
AI-powered prediction platform is a complex tool.
See challenges.
The Client's Challenge
Investing in Cryptocurrencies can be extremely profitable, but there is an obvious risk factor of risk. Digimax Global had a vision of a digital tool, powered by AI, that can help users across the globe make better decisions in terms of investing in cryptovirtual currencies. Digimax already had a complex AI algorithm, the goal was to make an outstanding product, in terms of User Experience, intuitive interface, as well as designing a coherent visual identity.
Our Team Challenge
The challenge on our side was working with the changing project conditions and business requirements. However, we work in an agile environment, so we were able to make decisions about changes at a relatively low cost. Another challenge was to adjust ourselves to the different time zones. We also did our best to engage our cryptocurrencies experts from teams to implement their knowledge into the project. This way we hit the jackpot.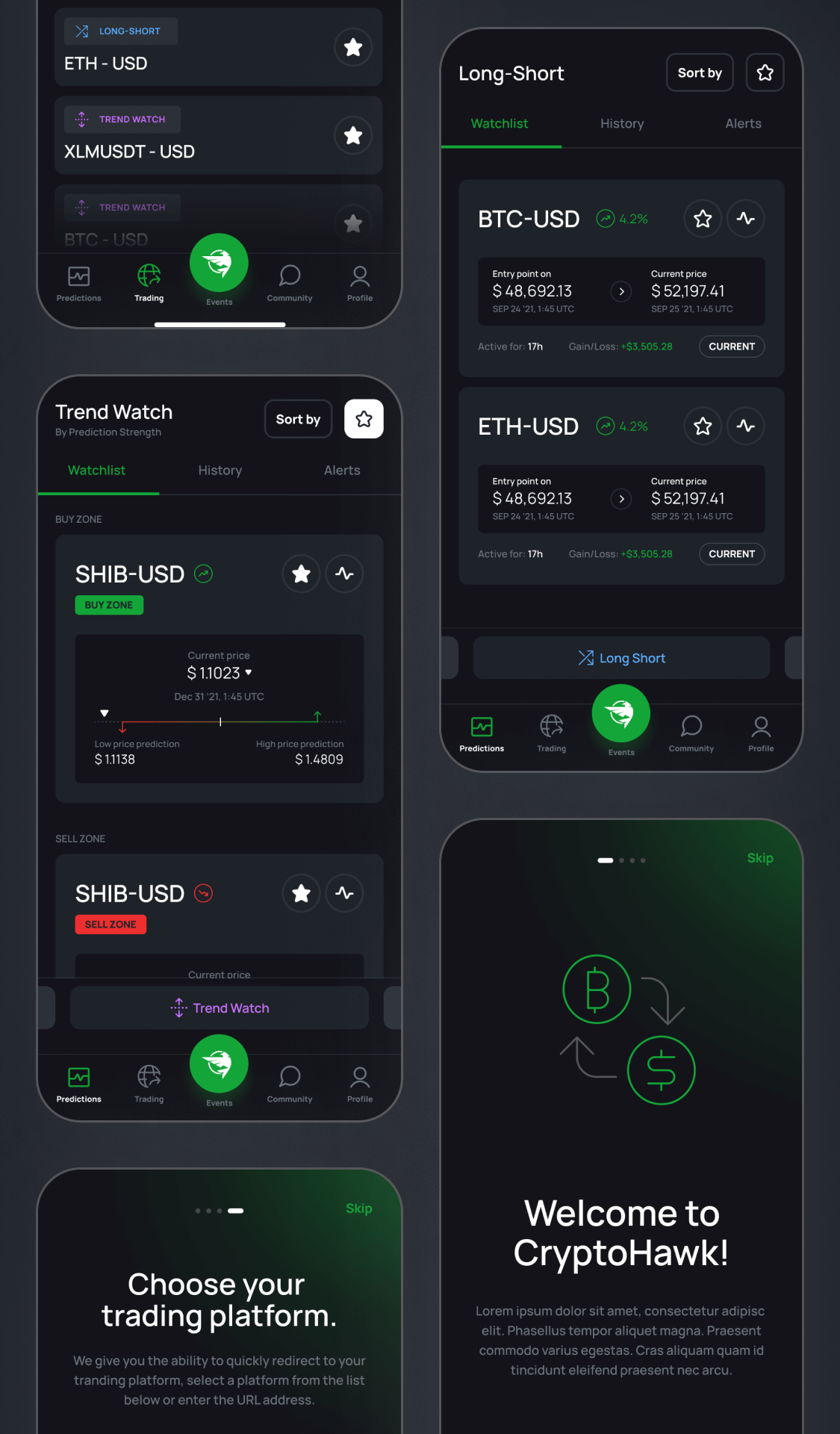 04
Phases
Holistic approach and planning are crucial for creating a successful product. This is how we managed it.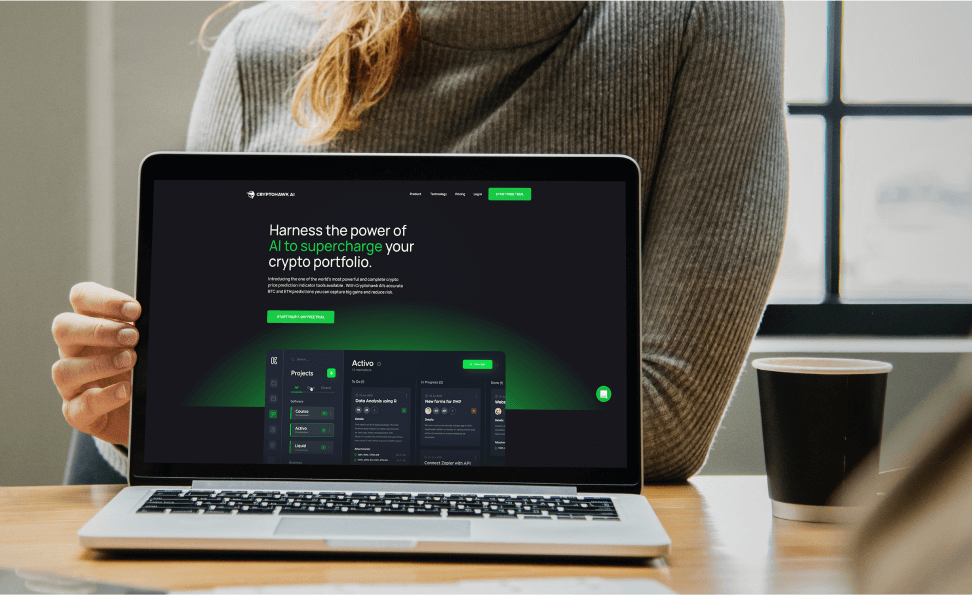 04-05.2021
Creation of visual identity
First, and foremost, we had to use our experience and skills to improve an existing WordPress-based website. There is no second chance when it comes to making the first impression. Thus, it is crucial to make the first encounter with the user a pleasant and attractive one, and we definitely managed to set these fundamentals. See what is Web Application Architecture and why it is essential.
04-05.2021
Design & development of the website
Digimax provided us with a logo and guidelines for colors, we took care of the rest of the sophisticated process. Our Art Director, based on an in-depth interview with the client about his business and the initial outline of the logo, created a Brand Book, which is the currently used visualization. Why is it so important? Because it makes the brand stand out from the crowd. It makes a unique impression and helps raise brand awareness. If you want to know more about branding strategy – see our article here.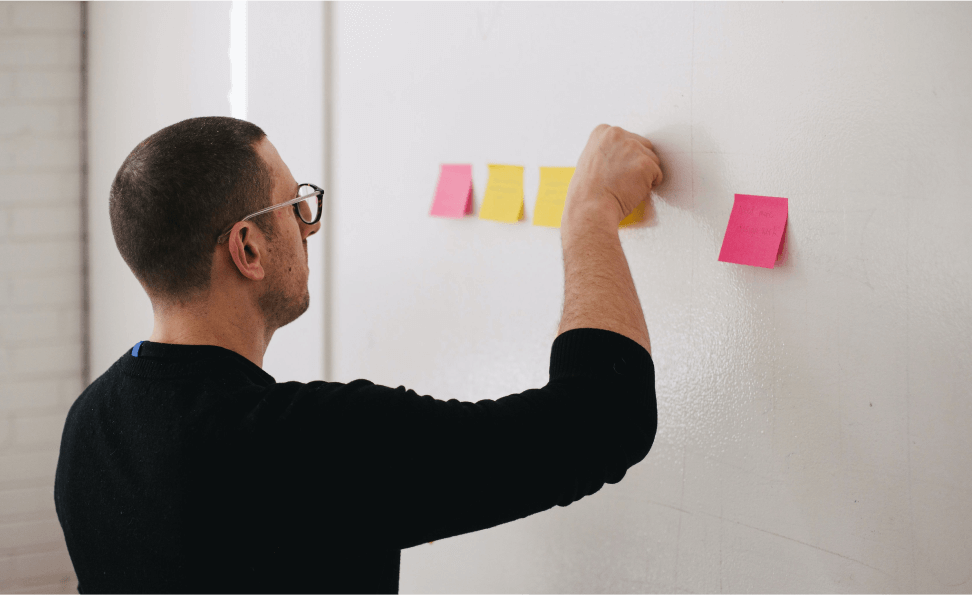 07-08.2021
Product Design Workshops
The workshop took 3 intense days of hard work. First, we have developed a stakeholder map. We wanted to make sure that the product would reach the desired target group effectively. Thus, we have precisely followed the guidelines – created personas provided by the client's marketing team.
With those, we moved on to value proposition design and meticulously worked on features analysis. We have faced a challenge with marking gaps between web and mobile apps (and the client wanted native apps for both iOS and Android), but thanks to our expertise – we have overcome this obstacle successfully.
We are always truly committed to our work. The analysis of user behavior for a non-existing product is a very sophisticated process. An example of this is that of the initially 80 User Stories, only 22 have been approved for the first release.
The workshop was a success, afterwards, we conducted the UX/UI phase and used the visual identity to make a clickable prototype.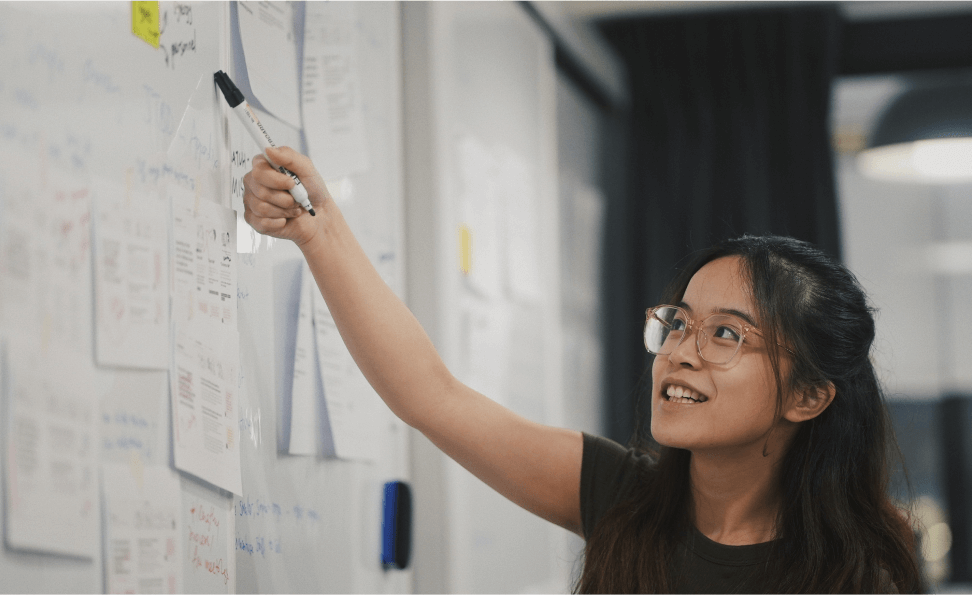 09-10.2021
UX/UI Design
Getting into customers' shoes is crucial – in terms of user experience, as well as the proper design. This is where design workshops step in. Design workshops are a vital step in making a successful digital product. The app has not only to present unique visual attractiveness but also has to be convenient and easy to use. Creating a positive, remarkable user experience is crucial (see more about mobile trends in 2022 here). It sounds like it's no big deal, but the truth is that it starts with a meticulous analysis of consumer needs and expectations, as well as designing the interface and features, so they are tailored to these needs.
The challenging part was designing the application, so the prediction screens were legible and easy-to-consume. Especially because all the shown data should be presented in a clear way, and also clearly visible on the smaller screens. These factors have highly engaged our design experts, and the result is simply astonishing.It would not have been possible without the input of our business and system analysts.
10.2021 – 04.2022
Development of the mobile apps
We decided to use technology that can translate to further development in the future. Therefore, the native application was our choice. Moreover, it's no secret that most of the mobile market in the USA belongs to iOS. Thus, it fits the local market perfectly.
What else is worth mentioning? Quality Assurance. We wouldn't release 
a product that has not been tested deeply. We know that creating 
a technologically correct digital product is important, yet, this stage also reduces the amount of negative feedback (read more here). After all, your product is for the people, so it has to be perfect. That is why Digimax Global joined forces with our team.
05
Obstacles

Our flexibility and expertise helped us overcome the obstacles along the way.
01
We adapted our engineering to comply with the client's ROR backend. Thanks to our alliances and partnership with many professional software companies, we have strengthened the team with a suitable specialist.
02
We accomodated for and improved for timezone differences. Working in an international team, in different time zones, and between two continents, requires a proper project approach and enhanced agility.
03
Joint product management was revealed to be useful for responsiveness and responsibility-sharing between the teams given localization differences, milestones, deadlines and implied resources accessibility.
04
Conducting work during the pandemic, was an additional challenge, in terms of working and managing teams in different timezones. We managed to handle this case successfully, thanks to modern digital tools.
06
Results

The results are remarkable – and we have numbers to prove it.
1000
downloads in 1st week
150-230
active users per day
4.5+
rating accross platforms
"Our challenge was to create mobile application screens with graphs that were to be both visually attractive as well as accurate and clear, with a way to contain all the data in a way that was easy to read and intuitive."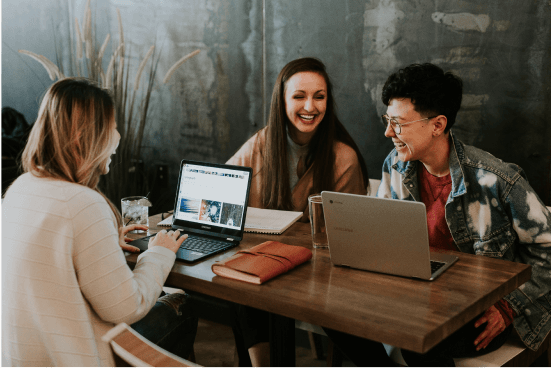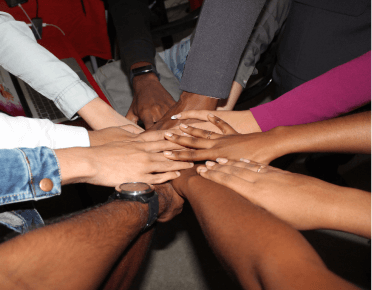 07
Team
Planning is vital, but so are the next steps – managing and executing. This is how we do it.
Forming a dedicated team of experts allowed us to not only execute our plan, but also to overcome any obstacles we faced during this project. Thanks to experience and expertise of our pros, we were able to go smoothly through the whole project. See the team below.
Team composition
2
Art Director & UX/UI Designers
3
System &
Bussines Analyst
Contact Us
Tell us about your project!
Schedule a 15-minute meeting
Every success starts with a conversation. Let's talk about your needs and expectations – we're here for you.
Paweł Kozikowski
New Business Consultant
Fill the contact form
We like to make things simple and clear – fill the contact form, so we can get the picture of what you need.
Awards & Certificates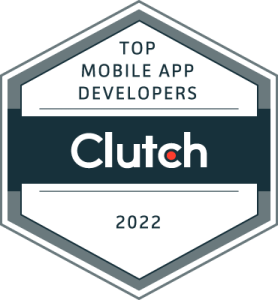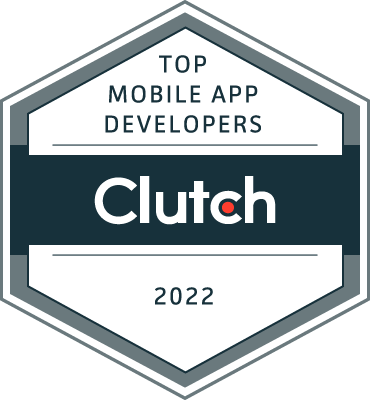 Top Mobile App Developers 2022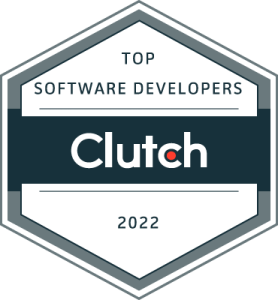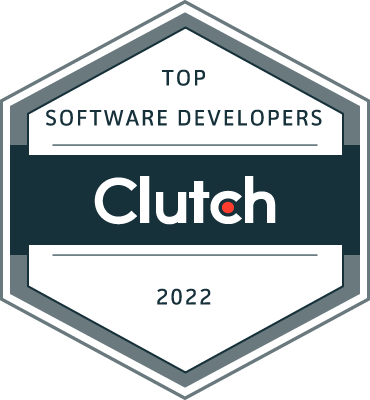 Top Software Developers 2022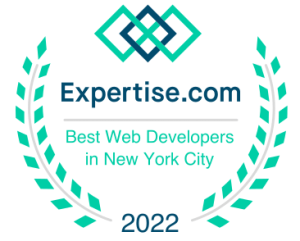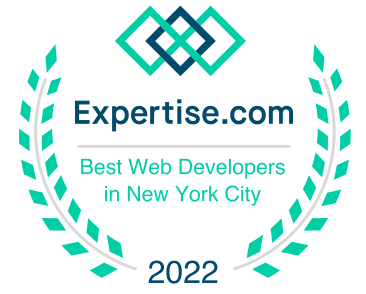 Best Web Developers in New York City 2022
Techreviewer Top Software Developers 2022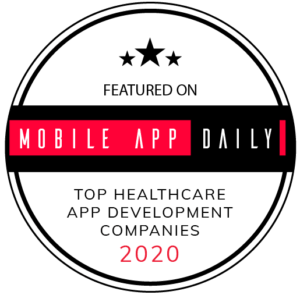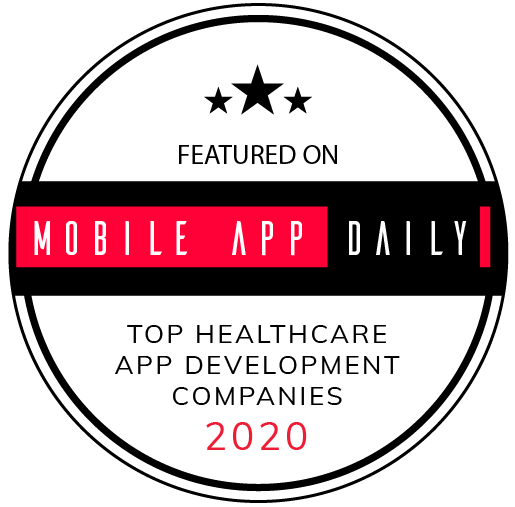 Top Healthcare App Development Companies 2020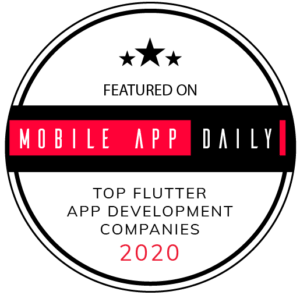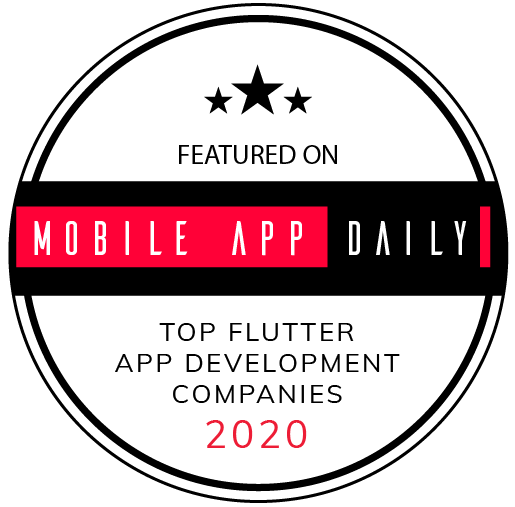 Top Flutter App Development Companies 2020