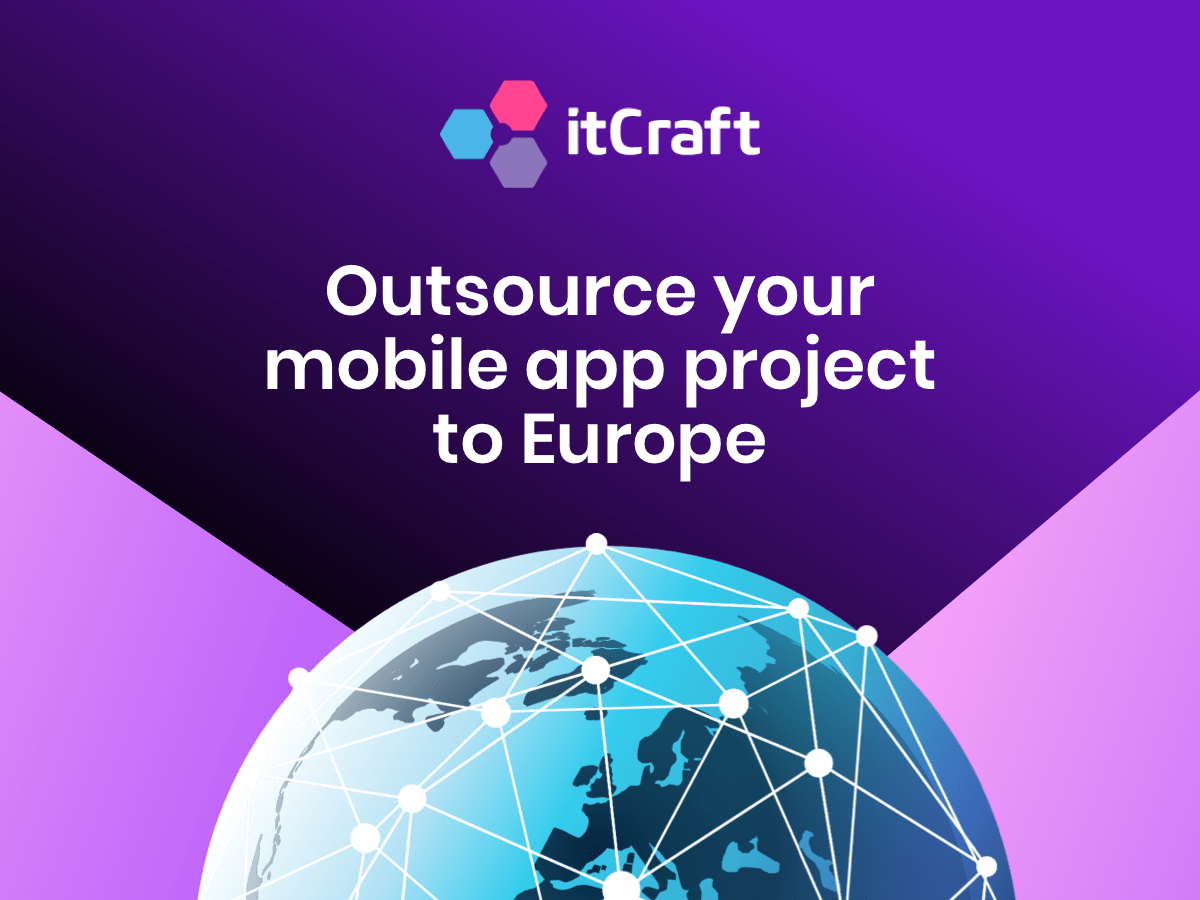 What Is Software Outsourcing and How Much Does it Cost?
Are you looking for a software house to create your app? Nowadays, thanks to outsourcing services, the whole world is at your disposal. You can opt for locally-based services or choose nearshore or offshore development. Whatever your decision is, you will see for yourself that every part of the world plays by their own rules, which often translates into pricing differences, caused mostly by the economic situation in the region as well as varying skill levels of developers.
Table of contents
Moreover, there are a lot of outsourcing models: staff augmentation, nearshore development, offshore development. Sounds scary, huh? No idea what option will work best for you? No worries, today we will explain it all.
How much do software companies charge per hour?
To put it simply, we can divide the whole world into four regions in regard to the cost of software development: Europe, Asia, North America, and South America. These are the main regions that we will take a look at today in terms of service costs, developers' competencies, but also the English language capabilities.
How much do software developers in Europe charge?
In Europe, the pricing usually ranges between $20 to $170 per hour. Usually, West Europe is much more expensive than Central and Eastern Europe. The latter tends to be the most affordable. Obviously, the exact pricing will vary between countries and even regions of a country. The language barrier is not usually a problem, as English is taught at a high level in the majority of European countries, and software houses normally expect their developers to have a high level working proficiency of English not to be confined to the borders of their own country.
How much do software developers in Asia charge?
Asia is known to be an outsourcing hub and is very often people's first thought when they hear the word 'outsourcing'. Developers' hourly rates start at the incredibly cheap $10, sometimes reaching $60-70, and in some extreme cases, even $150 per hour. These affordable and tempting pricings often attract companies from all over the world and is the main reason to outsource their project to Pakistan or India.
One of the biggest challenges when it comes to collaboration with Asian companies is the sheer numbers of vendors offering development services so finding a reliable partner is like finding a needle in the haystack. It's not impossible, but with the huge discrepancy in levels of experience, skill and professionalism it is rather good luck than excellent due diligence to find the truly good Asian development agencies. We know the struggle is real because many of our clients have approached us after a bad experience with an Asian company, with poor quality code, out-of-date libraries, poor documentation and many crucial features not working properly. On the flip side, there are a number of companies who have collaborated successfully with Indian or Filipino vendors and continue to outsource their projects to Asia.
How much do software developers from Latin America charge?
It might seem like Asian vendors offer the most affordable hourly rates, but actually, Latin American companies can offer even less expensive IT services. The hourly rates are around $20-50, or about $60 in Mexico that tend to be a bit more costly than other countries in the region. In this case, communication remains one of the most significant challenges, as Spanish is the main language spoken in Latin America, and speaking English is often a problem. Moreover, the region has never been notorious for its excellent developers, something that might change in the future, but right now collaboration with Latin American vendors can be challenging and there is a good possibility that it won't bring about the desired results.
How much do software developers in North America charge?
We've mentioned North America, but let's focus on the USA. That's the world's technology hub and your most obvious choice when looking for software development services. Without a doubt, hourly rates in the USA are the highest in the world. The average rates in the USA start with $50-100 per hour in the case of junior developers, and can reach $140-200 per hour for a senior developer's work. The average cost of software development can be twice as much as in Europe, and that's why so many companies opt for offshoring and collaboration with European providers.

| | | | | |
| --- | --- | --- | --- | --- |
| Seniority Level | Europe | Asia | Latin America | North America |
| Junior Developer | $20-50 | $15-40 | $20-40 | $50-100 |
| Regular Developer | $50-110 | $40-70 | $40-55 | $70-140 |
| Senior Developer | $70-170 | $70-150 | $55-70 | $140-200 |
Why is it so popular to outsource to Europe?
When taking into account different parts of the world, Europe, and Central Europe in particular, is nowadays the most attractive region in terms of IT development. There are multiple reasons for this::
Central Europe is much cheaper than the USA or Western Europe (although a bit more expensive than Latin America and Asia),
The high level of knowledge and skills of developers results in high-quality, clean code (more about that to follow), and meticulous documentation
The ratio between price and quality is much better than in most other regions.
Therefore, when considering value for money in terms of price versus code quality, Central European countries are the leading choice for those who are in search of app developers.
Which country has the best developers?
The most popular ranking of developers is held by HackerRank. According to this website, the top 5 countries with the best developers are the following:
China
Russia
Poland
Switzerland
Hungary
Surprised by the results? You shouldn't be with the two first countries: in such big nations, it's more probable to find reliable IT companies and outstanding developers. On the other hand, the probability of stumbling upon developers that deliver bad quality products is also higher.
After the first two places on the list, things get interesting. Many would say that the USA, UK or Germany have excellent developers, but these countries are listed in the 28th, 29th, and 14th place, respectively.
It turns out that there are some underestimated countries that deliver world-class software development services. Poland, Switzerland, and Hungary are European countries that are not spoken about much on a global scale, but in the IT world are actually highly praised by organizations that have chosen them as outsourcing or nearshore/offshore destinations. It's worth mentioning that in countries like Poland and Hungary you will most likely get superb code along with attractive prices compared to Western Europe or North America.

What does a professional development team look like?
One of the main success factors in software development is the team that will participate in the project. At itCraft, there is always a Project Manager, a team of developers which, depending on the scope of the project will include native iOS and Android developers or ReactNative or Flutter developers, frontend, backend, fullstack developers that are indispensable for developing the solution. UX/UI Designers are engaged during the design phase of the app interface, and QA Engineers who are responsible for testing the software and the ultimate quality of the final product.
All medium to large projects kick off with a UX Design workshop. These workshops are the initial stage of the development process vital for understanding the business objectives and goals of the project, define the technology necessary to deliver those objectives and define the MVP (Minimum Viable Product – the leanest form of the app which the market will accept). This analysis is conducted by Business Analysts, Tech Leads or System Architects and Senior UX/UI Designers who analyze and consult on the best possible solution from business, technology and user experience perspectives.
During the development phase, only the team members required to complete the tasks in the sprint backlog are engaged. If a project is of a larger scope, the team is expanded to meet deadlines with Regular Developers added to assist Senior Developers, more QA ENgineers to ensure thorough testing. A sample pricing breakdown comparing small and medium sized projects can be found on our pricing page, where you can also learn more about mobile app development cost.
Different types of outsourcing
You are already familiar with the costs of hiring developers in different parts of the world, you know where you can look for competent specialists, and additionally, you are aware of what kind of specialists should (or can) take part in the team working on your project. Now it's time to explain and analyze the various types of outsourcing that you can choose from.
Staff Augmentation vs Specialists outsourcing
I could describe these two types of outsourcing separately, but they are actually easier to understand when explained as one. Outsourcing itself means subcontracting a company to perform a given job. In terms of software development, we subcontract human resources to make a project a reality.
The main difference between Staff Augmentation and specialist outsourcing is that staff augmentation consists of involving the vendor's employees as part of the in-house team, and in the case of specialist outsourcing you delegate part or the entirety of the project to the service provider. There is also an option to choose full custom software development with the widest scope of outsourcing services.
Imagine that you want to create an enterprise app for production process management. Let's say you have your own team that is able to create this app, but you are lacking an iOS developer. It doesn't make sense to hire a new person as the developer is only needed for a small part of the whole project, so your best option would be outsourcing. What you can do is contact a software house and subcontract a developer who in fact will still work in this software house, but you will pay for the hours worked in your project. This is what Staff Augmentation is.
Now let's say you have a manufacturing company and you want to create an app, but you don't employ any developers and don't see any sense in creating new job positions only for the duration of the project, or maybe you have an in-house team able to develop Android app, but not the iOS version. Therefore, you can outsource your project (or part of it) to an external provider. In this case, we are talking about outsourcing.
Nearshore outsourcing
Nearshore development is yet another kind of outsourcing that, at closer look, is simply a buzzword. We can keep using the phrases explained above: 'project outsourcing' or 'specialist/developers outsourcing'. If there are additional factors, for instance, the team that works on the outsourced project is located in the same region or works in a similar time zone, then this type of outsourcing is called nearshore development or nearshore outsourcing.
Offshore development
Offshore development, in turn, is the exact opposite of nearshore outsourcing. The characteristic traits of this type of outsourcing are the highly-skilled developers, but at the same time,in many cases, much lower service costs thanks to lower cost of living in a given country which is normally located in a remote part of the world. Offshore development outsourcing has a lot in common with another popular term: overseas outsourcing, and it speaks for itself.
What are the software costs factors?
To sum up, the cost of custom software development can vary dramatically and depends on many factors,like which part of the world you outsource to, whether you have your own in-house team and only need to outsource part of the project or whether you want to delegate the whole development process, and last but not least, the seniority level of developers that will be involved in your project.
Junior developers will always be significantly cheaper than senior developers. In many cases, the investment in the higher hourly rate for the more experienced developer is well worth making. The seniority level is not just a pretext to charge more but the experience of senior developers allows them to work faster and more productively, and in the long run become more cost-efficient compared to a team comprised of juniors.
There is much more to discuss about software development costs and the pricing factors. That's why you can find lots of interesting reads on this topic on our blog. We encourage you to keep expanding your knowledge and check out our other blog posts, where you can learn more about software development cost: Budget vs expectations – how much will your mobile app cost?, the various types of pricing: fixed-price vs time and material, and get to know whether technology outsourcing makes sense for startups.
Do you need a professional development team? Contact us!
See also
How to deal with remote work in IT?
Building mobile UIs – Flutter vs native Android SDK. Language and tech stack applicability and comparison
Top 4 technologies to develop your app in 2020